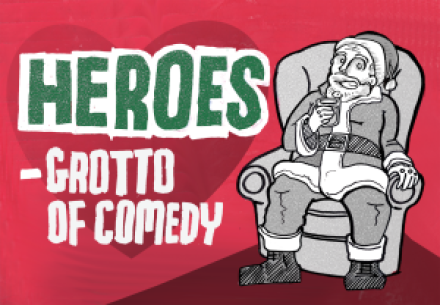 Promoter Bob Slayer's posh pop-up venue in the City of London, Heroes: Grotto of Comedy, was flooded this morning. Slayer explains: "Oh the irony...The day after the Weirdos underwater show ends our Grotto venue quite literally ends up under water... 
At 8am this morning we got a phone call telling us that the barbers next door had a 'bit of a leak' overnight... We came in straight away to find water pouring through the backstage ceiling and then down into the venue... 
Fortunately its an old empty building and anything thatcould be damaged has already long since been knackered - Had this happened anytime last week it would have been disasterous - All of the Weirdos props, which were made of cardboard and paper mache were stored exactly where the worst of the water damage happened and would certainly have been ruined... 
Our last show is on Thursday and whatever the ancient plumbing decideds to do we intend to drink the bar dry! We will also be showing the premier of Santageddon the Movie, filmed in the building over the last month and staring Nick Helm, John Kearns, Gemma Whelan, Pat Cahill etc. If you are intending to come along - maybe bring an umbrella?!?"
Listings for the remaining gigs are here.