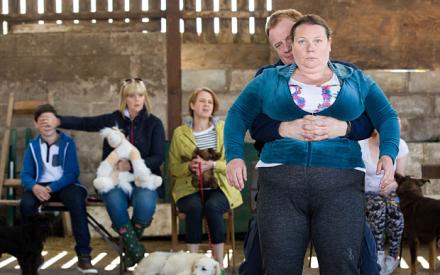 Right, I'm sticking with this like a dog with a bone. The third instalment of this dodgy doggy sitcom finds Nana V (Joanna Scanlan) more hard up than ever and Naomi Singh (Vicki Pepperdine) more snobby than ever.
As with previous episodes there is not a lot of narrative continuity outside the two - no pun intended – leads. Old characters have disappeared and we are introduced to some new ones, most notably Mark Lewis Jones (pictured, a bit like a squashed, ginger Daniel Craig) as an RNLI salty sea dog. As usual Nana V has the hots for him (he's an old flame as most of the men seem to be), but, also as usual, the object of her lust has more in common with Naomi. 
There is also a sighting of stalwart comic Justin Edwards, which is always a good sign. But I'm not really sure if this series has found its feet properly. In this episode the drama of teeenage lovebirds Eron and Jasmine getting into difficulties at sea is a little too telegraphed by the reference to "don't go near the marine lake" and the prominently featured sign that says "strong tide".
Having said that and despite some ongoing misgivings about the over-emphasis on Nana V's hand-to-mouth existence, this is an exceedingly warm-hearted series. One thing is certain - it is absolutely impossible to dislike. And Scanlan showed particular commitment to her role this week, stripping down to her oatmeal undies for some doggy life-saving. 
Watch Puppy Love on iplayer here.