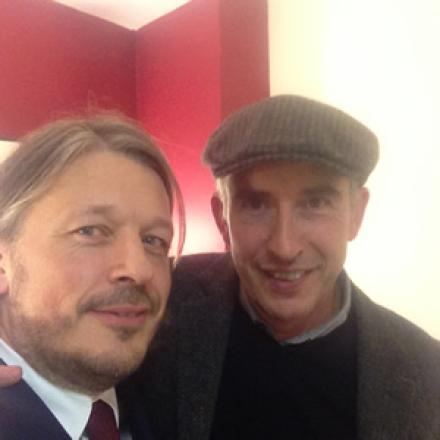 Richard Herring is back with an autumn run of podcasts recorded, as the title gives away, at the Leicester Square Theatre. So far he has interviewed Mark Gatiss, Brendon Burns and James Acaster, but the most noteworthy one of the current season is Steve Coogan, which came out this week on audio and on YouTube and is both funny and informative.
Because Herring is in the same line of business as his guests he usually puts them at ease, but I'm not sure if that was entirely the case throughout the one hour interview with Coogan. Particularly when Herring touched on the genesis of the Alan Partridge character. As has been documented elsewhere Herring and Stewart Lee wrote for On The Hour, the series where Partridge made his radio debut.
Coogan's version of events is that Lee and Herring wrote a sketch featuring a "sports presenter" and Armando Iannucci asked Coogan to do a voice. Coogan came up with one and the rest is history. "In some ways…the first material as Alan Partridge was written by you," says Coogan, who then joked that the thought process afterwards was "this is a good voice…forget the material." 
Elsewhere the podcast also reignites the controversy over Top Gear making jokes about Mexicans. Coogan, who was outspoken on the subject back on 2011, calls it "cowardly racism" here, suggesting that they wouldn't have made the same jokes about Pakistanis or Jews, but there isn't "a big wave (no pun intended) of Mexicans in Britain."
The emphasis during most of the recording is on straightforward laughs, even when discussing the Leveson Enquiry. Coogan revealed that during the enquiry he saw his name in private investigator Glenn Mulcaire's notebook and also his phone account password, which was "Ferrari". He has now changed it. There is also some choice abuse for the editor of the Mail.
Rest assured there are also plenty of comedy voices, from Jimmy Savile to Chris Eubank, but Coogan also talks seriously about his film career, explaining that making Philomena has opened doors for some more interesting dramatic work. He also sheds some light on what he got up to with co-star Judi Dench when the cameras weren't rolling, but to find out exactly what you'll have to watch/listen to the podcast. Rest assured it's well worth hearing.
Click here for all the current Richard Herring podcasts.