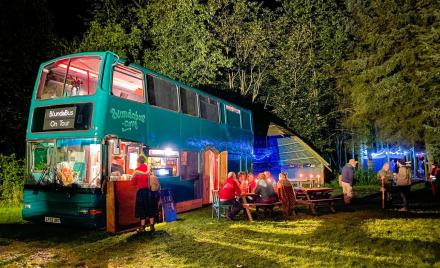 Edinburgh Fringe venue The Blundabus, run (and driven) by Bob Slayer is in danger of missing this year's Festival.
Slayer has explained on Facebook. "The BlundaBus and SpiegelYurt Fringe is in jeopardy... - this is not an April Fool sadly...There will be building work happening on the student flats next to the Potterrow site,(the ones that have had scaffolding on them for 3 years) The site will be full of skips and new cladding...Lucy Hopkins has booked an amazing line up for this years Fringe and so we are doing all we can to find a new site... Fingers crossed!"
The Blundabus has been an Edinburgh Fringe venue since 2015, putting on memorable gigs inside the converted double decker as well as becoming a popular stopping off point between the Pleasance Courtyard and the venues in Bristo Square.
It is hoped that Slayer will find an alternative parking space in time for the Fringe in August so that the acts booked to play it will not have to find a different place to perform.