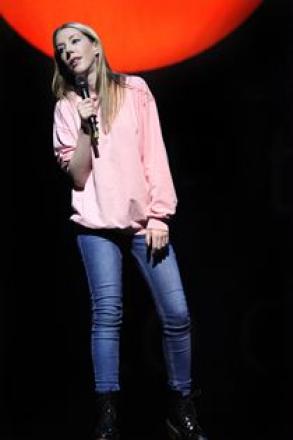 Producer David Johnson has written that he is banning Telegraph comedy critics from his upcoming gigs. This follows the publication of the five "best jokes" at the recent Laughing Point charity gig on the Telegraph website.
Among those quoted in the article were Daniel Kitson, Katherine Ryan (pictured at the gig), Joe Lycett and Josh Widdicombe. Johnson, who produces shows by Stewart Lee, Fascinating Aida and Rubberbandits (but didn't produce the Laughing Point show) wrote on his Facebook page that "Publicists and venues should stop all comps to the Telegraph comedy critics immediately. They are excluded until further notice from all my shows." 
There was general annoyance at the practice of printing jokes and additional irritation here as it was felt that this was new material being aired. The producer, who recently put together Stephen Fry's book tour, went on to write: "I'm banning the lot of them [Daily Telegraph comedy critics] until they acknowledge how terribly terribly naughty they have been and make at least one human sacrifice." 
This is an issue which Beyond The Joke wrote about yesterday here. After our piece appeared Josh Widdicombe responded by tweeting that "the real kick in the teeth is it is not my joke." Katherine Ryan tweeted "They are printed wrong and/or out of context but I've had worse." And Joe Lycett replied "Hard to care when you are drowning in poon, mate."
Here is BTJ's review of the gig. 
To stay one step ahead of the comedy news, sign up to the Beyond The Joke free weekly newsletter on the right-hand column of the homepage.