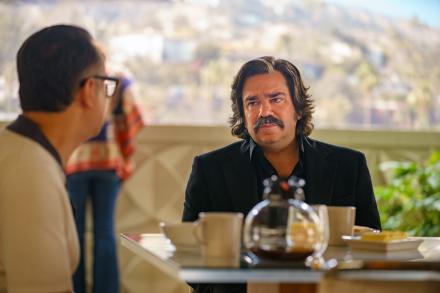 I think Toast of Tinseltown is my favourite comedy on television at the moment. Each episode is packed with so much comic detail and so much lunacy what's not to like? Oh, and Matt Berry's performance as the perpetually incandescent Steven Toast deserves some kind of award. What kind I can't say.
In the first episode in this new series Larry David had a guest cameo and people wondered if Matt Berry might crop up in a future episode of Curb Your Enthusiasm. I don't know about that, but this third episode has the feel and structure of a classic Curb instalment. Different strands are seeded at the start and, boy, do they collide at the end.
Toast appears to be in a relationship, or at least he thinks he is, with sexologist Shepherd Gerbil (Gina Bellman). But is she sleeping wth him for research or romance? Her big pile of cards with scores on them - the episode is called The Scorecard – suggests it is the former but Toast wants to convince himself it's the latter.
Meanwhile he has a movie opportunity with director Weech Beacon (Colin McFarlane). It's not a big part but as long as he can get the line right he is in. Except that getting the line right is not as easy as it sounds. It reminds me of the old theatrical anecdote about the actor whose only line was "I do" - he was just about to go onstage when a colleague said "do you know your line?". He replied "Know it? I know it backwards." Then went onstage and said "do I?"
But I digress. The scene is set for a bit of a romp, plenty of embarrassment, more weirdness from Russ Nightlife and Toast doing a voiceover advertising Corden's Pepper Spray for Clem Fandango.
It's stupid. It's brilliant. It's brilliantly stupid. 
Toast of Tinseltown, Tuesdays, 10pm, BBC Two (The Scorecard airs on January 18 but the full series is already on iPlayer)
Picture: BBC/Objective Fiction/Ben Meadows