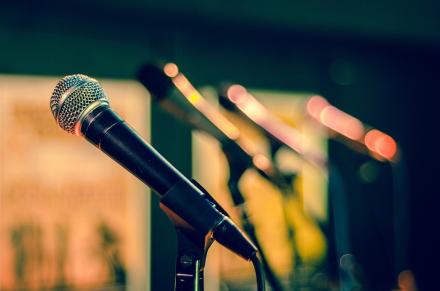 1. Simon Amstell – Yes, of course he goes onstage and talks about himself for an hour and a bit, but comic narcissism with lashings of self-awareness doesn't get funnier that Amstell's latest show Spirit Hole. Click here for 2022 dates.
2. Maisie Adam – my breakout star of 2021 - you've probably seen Adam on various TV shows this year but she is even better onstage. Her Latitude Festival set bodes very well for her first national tour in 2022. Read a review here.
3. Alfie Brown – the outspoken contrarian has always threatened to deliver the perfect show. He came closest yet with this personal account of life in Covid times and his own moral certainties and uncertainties.
4. Liz Kingsman – there is nothing better than seeing a talent suddenly find their voice. Liz Kingsman of sketch group Massive Dad did just that with her debut show skewering the cult of Fleabag-style comedy.
5. Bridget Christie – 50-year-old finds the funny side of the menopause. It's not exactly a pitch to get them queuing round the block, but when it's Bridget Christie you know it'll be hilarious, silly, political and clever. And it was. 
6. Mo Gilligan – I like to think I spotted Gilligan early on when he had barely given up his job selling jeans in Covent Garden and was best known for his Insta clips. I knew he would be a superstar, I just didn't think it would happen this quickly. 
7. David Baddiel – If I'm as honest as David Baddiel is I'd have to admit his latest show about Trolls was not quite as good as his previous shows which homed in more on his family. But this is David Baddiel, needless to say his takedown on Twitter was still fucking funny.
8. Ricky Gervais – probably a controversial choice. Gervais certainly has his detractors and I've found some of hid material problematic too. But what can I say, I've seen his latest show SuperNature twice and have been too busy laughing to rattle off a complaint on Twitter.
9. Bill Bailey – Old twinkletoes has been everywhere in 2021 but he is a sublime stand-up comedian at heart. Actually scrub that - he's a superb stand-up/musical comedian/dancer at heart. He wagon top form with a splendid show at the Royal Opera House.
10. Megan Stalter – US breakthrough star Stalter delivered a memorable set of so-bad-it's-brilliant comedy at the Soho Theatre this autumn. Most of the show involved her getting her intro right, but, boy, what an intro…
11. Ben Elton – An oldie but still a goodie. Elton's fortieth anniversary tour saw him admitting that life is more confusing than ever. His confusion makes for great entertainment though. Never mind the old Etonians running the country, this old Eltonian is still bossing comedy.
Footnote: I expected to include Mae Martin in this list having really enjoyed Martin's previous shows. Unfortunately, despite a national tour and two runs in London, including a Soho Theatre run lasting three weeks, critics were not invited to review Sap.