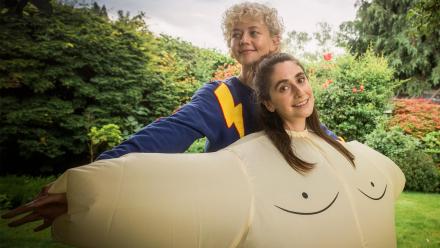 There was a show at the Soho Theatre a few years ago that I was keen to write about but found difficult to get a commission because it was one of those odd shows that straddled comedy and drama, sketch and play. That was Fleabag. Britney falls very much into the same category. It got great reviews but not a huge amount of coverage as a stage event and now it has made it onto TV with a one-off pilot. Miss it at your peril. It's bloody brilliant.
Charly Clive and Ellen Robertson play best friends Charly and Ellen, meeting at the outset at school when Ellen auditions for Charly's play. They immediately map out their lives together – when they marry they want to live next door to each other with connecting tunnels. And then we fast forward ten years to see how things are going. Charly is about to enter a tunnel but not the one hoped for. 
Aspiring actor Charly has been working in New York and returns to their village, Cumwell, where life is both exactly the same as ever and very different. One of their school friends who was fat is now fit, another is...perhaps a bit of a foreshadowing this...dead.
Charly and Ellen are as close as ever though, but before they can slip into their old ways Charly has to have an MRI scan as she hasn't had a period in ten months. Perhaps the most unbelievable thing about this funny, fast-paced tale is how quickly she can get medical attention. 
To give away more detail would spoil the jokes and also the more serious undercurrents. But it is all played out with a wonderfully reality-meets-quirky edge, with fantasy sequences, special effects and one-off visual gags worthy of The Simpsons. 
Charly Clive and Ellen Robertson have great chemistry together, which is maybe not a big surprise as they seem to be essentially playing themselves. And the supporting cast includes Omid Djalili as a doctor who can't stop speaking in an inappropriate New York accent, Mark Silcox as a neighbour going through an existential crisis and Tony Gardner as Charly's father, who, quite accurately but also humorously, notes that Charly and Ellen have "carried a creepy child co-dependence way into adulthood". Charly's mum Janet (Lia Williams) also gets some fantastic lines but the best one is completely bleeped out....
The episode, directed by Luke Snellin, ends on a stark yet strangely feelgood cliffhanger. Will more episodes be made? Well, if the BBC doesn't pick this up for a series it's them that needs their heads examined.
Watch Britney, BBC Three/iPlayer now here.
Picture: BBC