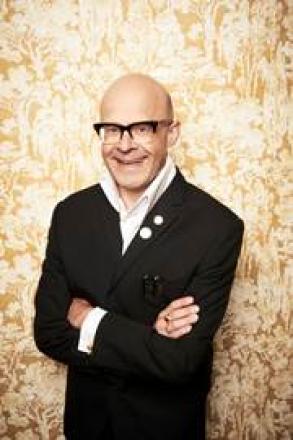 Harry Hill is to make his acting debut for BBC One in Professor Branestawm (working title), a family film adapted from Norman Hunter's classic children's books by actor and author Charlie Higson (Fast Show, Young Bond series).
Harry Hill will be bringing to life Professor Branestawm, the original mad professor, an absent-minded inventor who is oblivious to the chaos his ridiculous creations cause when they go wrong, (which they always do).  If it weren't for the efforts of his long suffering and highly –strung housekeeper, Mrs Flittersnoop, and his dim but loyal best friend, Colonel Dedshott of the Catapult Cavaliers, the professor would long ago have blown himself to smithereens.
Set in the quintessential English village of Great Pagwell, the hour long special sees Mrs Flittersnoop's science mad niece, Connie, come to the Professor's rescue when health and safety obsessed local councillor Harold Haggerstone tries to get him shut down and kicked out of the village as a dangerous nuisance.
Joining Harry for the 1 x 60 special are Vicky Pepperdine as Mrs Flittersnoop (Getting On), Madeline Holliday as Connie (CBBC's Hank Zipzer) and Simon Day as Colonel Dedshott (The Fast Show). A raft of talented names are also cast in the following roles; Ben Miller (Death in Paradise) plays Mr Bullimore, Miranda Richardson ('Harry Potter') as Connie's teacher Miss Blitherington, David Mitchell (Peep Show) as councillor Harold Haggerstone, Sophie Thompson ('Four Weddings and a Funeral') as Connie's mum Aggie and Adrian Scarborough (Gavin and Stacey) as the Vicar. Charlie Higson will also play the role of the Mayor.
Harry Hill says: "As a budding schoolboy scientist and inventor myself I loved the Professor Branestawm books as a kid, I was fascinated by Heath Robinson's wonderful illustrations too. It's a thrill for me to be playing the prof in Charlie Higson's brilliant TV adaptation. Best Christmas present ever!"
Charlie Higson says:  "I loved Norman Hunter's Professor Branestawm books when I was a kid, and I loved reading them to my own kids, who found them as funny as I did.  These were the books that inspired me to write comedy of my own, and I've always wanted to adapt them for the screen.  To bring Heath Robinson's brilliant illustrations to life and share Norman Hunter's amazing inventiveness with a wider audience is a dream come true for me."
Charlotte Moore, Controller of BBC One says:  "In recent years BBC One has produced some truly wonderful adaptations which have been huge hits with our audience and I have no doubt that Charlie Higson's take on Professor Branestawm, starring the brilliant Harry Hill, will prove to be just as magical and popular."
Shane Allen, Controller of Comedy Commissioning says: "This classic of children's literature has found its perfect match in Charlie Higson's inventive adaptation and a kindred lead with the eccentric, warm and hilarious Harry Hill. It's great knockabout fun to bring the family together."
Professor Branestawm has been commissioned for BBC One by Charlotte Moore, Controller, Shane Allen, Controller of Comedy Commissioning and Myfanwy Moore, Controller, BBC Comedy Production. Produced by BBC In House comedy, the programme is executive produced by Ben Farrell (Toast of London, Reggie Perrin) producer is Rosemary McGowan (Jonathan Creek, Lapland, Happiness) and director is Sandy Johnson (Harry & Paul, Benidorm, Jonathan Creek).