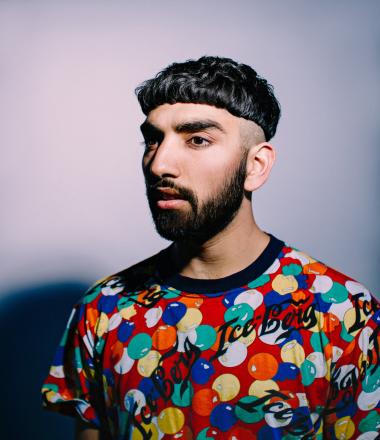 The line-up has been revealed for the 2021 WeGotTickets Musical Comedy Awards. The final will take place at the Bloomsbury Theatre in London on Saturday, October 23.
Since 2009, the MCA have helped to launch the careers of the likes of Abandoman, Rachel Parris, Mae Martin, Jay Foreman and Frisky and Mannish. If you enjoy acts that combine comedy with music such as Bill Bailey, Tim Minchin and Flight of the Conchords, you will love this show.
The final of the 2021 WeGotTickets MCA will see ten finalists, who have progressed through heats at the Phoenix in London, battle it out to win the musical comedy crown of this prestigious competition. A sell-out event every year since 2009.
The finalists are as follows:
Rhiannon 'Ray Ray' Hopkins
Ed MacArthur
DING
David Hoare
Christy Coysh
Hel MacCormack
Flat & The Curves
Simon David
Orlando Gibbs
Edy Hurst
This year there are three female acts (Flat & the Curves, Hel MacCormack and Rhiannon Hopkins) and one mixed gender act (DING), so 7 female performers in total.
The organisers say: "
We have listened to criticism regarding the gender imbalance and lack of diversity in our 2020 final. Since starting in 2009
, we've had performers from all over the UK and beyond, from the full range of background wealths/classes, across the sexuality and gender spectrums, and from the various races that represent the make-up of the UK population. There's a good reason why the Musical Comedy Awards logo has always encompassed a rainbow.
We will continue to make efforts to attract a broader range of performers from all backgrounds and if any partners want to help us to achieve this aim, we would love to work together with you. That said, we are proud of the acts taking part in our 2021 final and the fact that our performers this year better reflect the reality of a modern, diverse Britain.
Our finalists and winners are chosen by the audiences and judges, not the producers. The producers do select the acts to be in the competition in general, and are proud to have always included a wide variety of acts, both in style and diversity. The last six competitions have had four female winners of the main award, whilst the newcomer award (the only one chosen by the producers), has had seven female and one mixed gender winners over twelve years."
The evening will also feature a performance from Best Newcomers, Plastic Jeezus and a headline set from Mawaan Rizwan (pictured).
The host for the evening is Josh Weller. Weller's high energy brand of cleverly self-deprecating stand-up landed him on pro bills after just one year on the circuit. In addition to his live comedy work, Josh has developed a loyal fanbase for his online content, which includes sketches, live pub quizzes, professional trolling, animated stand-up comedy shorts, character work, and more. In 2020, he was included in Twitter's Valentine's Campaign, featured on billboards across the US and UK. 
Mawaan Rizwan has appeared on BBC2's Live at the Apollo and Channel 4's Harry Hill's Clubnite, captivating audiences with his joyful yet deeply honest stand-up. His live performances of his songs 'Mango' and 'Never Been Skiing' both went viral last year.
His Edinburgh 2018 show 'Juice' was a critical and commercial success, performing to sell-out audiences and receiving a plethora of 4 and 5 star reviews for his 'thirst-quenching joy-ride of a stand up set'. Mawaan also supported 'Queer Eye's' Jonathan Van Ness on his tour 'The Road to Beijing', in UK, Australia and New Zealand.
Mawaan featured on the inaugural series of Taskmaster for C4, and also served as co-host on Jonathan Ross' Comedy Club on ITV.
As an actor he stars in 'Two Weeks to Live' alongside Maisie Williams, a new 6 part comedy series for Sky One and HBO Max. He has also starred in the ITV Drama 'Next of Kin' as well as the BAFTA winning 'Murdered By My Father'.
Mawaan's writing credit on Netflix' 'Sex Education' (series 2 and 3) earned him a spot on Forbes' 30 under 30 list.
Tickets are on sale now
here
. The show can be viewed from home via live-stream for just £5 and is available for one week on demand. People just need to book via the Bloomsbury website and enter the code MCA5 at the checkout.