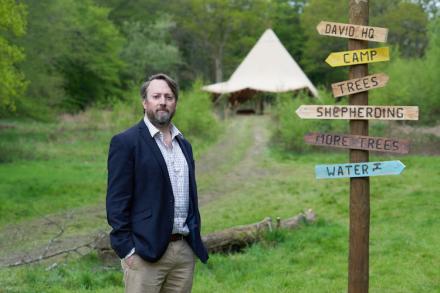 David Mitchell says that he has turned down appearing on Taskmaster.
Mitchell's wife Victoria Coren Mitchell made a splash in the series on C4 but in an interview with Richard Herring for Richard Herring's Leicester Square Theatre Podcast Mitchell explained that he had turned down the opportunity to take part in the award-winning programme.
Herring pointed out that Mitchell's name comes up a lot when people are asked who they would like to see on Taskmaster.
"I've been asked and I've said 'no thanks'", explained Mithell. "It's a very good show but i don't want to be on it. My feeling is that I'd be shit but not in a funny way. People think maybe I'd be a good sport about it and I don't think people thinking that will increase if I'm on it. It's like I've been asked to be on Celebrity Mastermind because people think I'd be quite good at that. So why would I do it then. All I can do is ruin it by going on it and turning out to be considerably more ignorant than people expect."
Victoria Coren Mitchell appearing on it and enjoying the experience did not change his mind: "She really likes challenges and puzzles. I find puzzles puzzling."
Mitchell was recently seen hosting Dave's new celebrity challenge series Outsiders (pictured) which various critics have compared to Taskmaster.
He also revealed in the interview that there are hopes that the live version of Upstart Crow will return to the West End stage next year. The run was cancelled due to Covid soon after opening and Mitchell said that as they have performed it and now that they know it is not shit they can invite their friends and have a good time.
When asked if he would do Strictly Come Dancing like his double act partner Robert Webb he said "I would rather do Taskmaster."
Listen to the full David Mitchell interview with Richard Herring here. 
Outsiders is on UKTV's catch-up service.