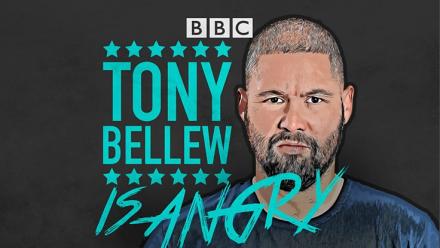 Ricky Gervais, Wayne Rooney and Joy Crookes are among the guests on a new podcast for BBC Sounds fronted by ex-boxing world champion Tony Bellew.
In Tony Bellew Is Angry the host will go toe to toe with different guests as they talk about the times in their lives when they've been infuriated - from life-changing pivotal moments to the everyday stuff that aggravates us all. Tony will ask how they've dealt with it and what they've learnt, in the hope of gathering some tips on dealing with his own anger.
Tony says: "I've been fuelled a lot in life by anger, so looking back on why I've made certain decisions and why I've done the things I have was like therapy. I've really enjoyed listening to other people's stories and their experiences in dealing with anger. Hearing the things that make people mad has made me realise I'm not on my own, so for me it was good to get things off my chest and off my mind."
Tony Bellew Is Angry begins on 14 September with two episodes featuring Wayne Rooney and James English. Other episodes include Ricky Gervais and Joy Crookes, with more to be announced, as they share anecdotes of their anger through tears, laughter and rage.
Dylan Haskins, Commissioning Executive, says: "Although in the early stages of his broadcasting career, Tony hits as hard behind the mic as he did in the ring. This podcast will give him a direct line to a UK audience who admire and connect to his honesty, family-first mentality and hard-working nature. We're really happy to have him in the BBC's corner."
The podcast is the first BBC commission for Orion Publishing Group, who were successful following an open commissioning round in 2020 focused on a younger male audience.
Tony Bellew is Angry will be available weekly from 14 September on BBC Sounds.
Producer - Mike Holt for Orion Publishing Group
Executive Producer - Alice Lloyd for Orion Publishing Group
Commissioning team - Alex Entwistle and Adam Eland
Commissioned by Dylan Haskins and Richard Maddock for BBC Sounds and BBC Radio 5 Live