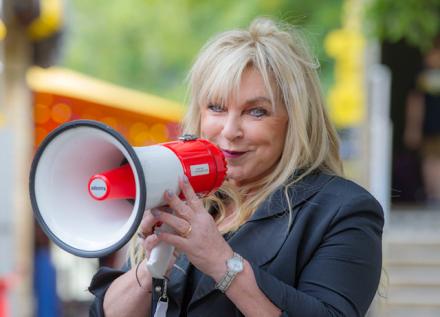 The longlist has been announced for this year's Comedy Women In Print Prize.
This is the third year of the UK and Ireland's only prize to shine a light on funny novels by women and offers something for everyone, after 18 months of readers turning to books for comfort and escape. It was founded by Helen Lederer (pictured).
Demonstrating the multitude of ways women can express wit and humour, the writers longlisted in the Published Comic Novel category are: debut authors HELLY ACTON and JANE IONS; Sunday Times Style columnist and National Book Award winner DOLLY ALDERTON; Indian American writer and actor DIKSHA BASU; bestselling YA author HOLLY BOURNE and children's and YA author JESSE SUTANTO for their debut adult novels; journalist, author and podcaster DAISY BUCHANAN; Women's Prize longlisted Irish debut novelist NAOISE DOLAN; producer, director and author LISSA EVANS; comedian, writer, actor and presenter MEL GIEDROYC; award-winning Irish novelist and short-story writer CAOILINN HUGHES; South Korean writer YUN KO-EUN and her translator, LIZZIE BUEHLER; I May Destroy You actress and stand-up comedian ANDI OSHO; and columnist, writer and broadcaster LYNNE TRUSS.
Joanne Harris, Chair of Judges for the CWIP Published Novel Prize, says:
"What a marvellously diverse longlist! Humour is the thing that connects and reflects all of humanity; and I'm really looking forward to immersing myself in the wit and wisdom of these amazing women, and bringing their voices to the attention of a wider public."
Lockdown seems to have driven aspiring writers to find the funny side, with entries for the Unpublished Prize up 26% on last year. 12 writers are longlisted in the Unpublished Comic Novel category.
The Comedy Women in Print Prize 2021 longlist for Published Comic Novel is:
The Shelf by Helly Acton (Bonnier Books)

Ghosts by Dolly Alderton (Penguin)

Destination Wedding by Diksha Basu (Bloomsbury)

Pretending by Holly Bourne (Hodder & Stoughton)

Insatiable by Daisy Buchanan (Little, Brown)

Exciting Times by Naoise Dolan (Orion)

V for Victory by Lissa Evans (Doubleday/Transworld)

The Best Things by Mel Giedroyc (Headline)

The Wild Laughter by Caoilinn Hughes (Oneworld Publications)

Domestic Bliss and Other Disasters by Jane Ions (Bluemoose Books)

The Disaster Tourist by Yun Ko-eun, translated by Lizzie Buehler (Serpent's Tail)

Asking for a Friend by Andi Osho (HQ, HarperCollins)

Dial A for Aunties by Jesse Sutanto (HQ, HarperCollins)

Murder by Milk Bottle by Lynne Truss (Raven Books)

The Comedy Women in Print Prize 2021 longlist for Unpublished Comic Novel is:
The World is Your Lobster by Jane Ayres

The Lady Detective by Hannah Dolby

The Lake House by Jen Fraser

Fools Rush In by Jo Lyons

Six Months to Find a Husband by Jo McGrath

What Would Joan Jett Do? by Alyssa Osiecki

The Purgatory Poisoning by Rebecca Rogers

The NCT Murders by Katherine Sumner-Ailes

Life Lessons by Hannah Sutherland

This is 27 by Gemma Tizzard

Labour Law by Clare Ward-Smith

The Death and Life of Agnes Grace by Emma Williams
Award-winning author of Chocolat and Chair of the Society of Authors Joanne Harris is chair of judges for the CWIP Prize for Published Novel. Harris is joined by actress, comedian and writer Maureen Lipman (Educating Rita, Coronation Street); Channel 4 presenter Steph McGovern (Steph's Packed Lunch); author Cathy Rentzenbrink (The Last Act of Love); 2020 CWIP winner, Nina Stibbe; and award-winning actor and writer Susan Wokoma (Enola Holmes, Chewing Gum).
The judging panel for the CWIP Prize for Unpublished Novels is chaired by journalist, editor and interviewer Sarah Shaffi. Shaffi is joined by Martha Ashby, Editorial Director at HarperFiction; winner of the 2020 CWIP Unpublished novel category, Faye Brann; broadcasting legend and regular 'Loose Woman', Gloria Hunniford; stand-up comic and actress Thanyia Moore; and Dr Jennifer Young, Head of Writing and Journalism at Falmouth University.
The CWIP published winner will receive a cash prize of £3000 from the Author's Licensing and Collecting Society (ALCS). For the unpublished category, recognising rising comic talent, the winner will receive a publishing contract and a £5000 advance from HarperFiction. The unpublished runner-up receives a place on the University of Hertfordshire MA course in Creative Writing or Writing Mentorship, consisting of four meetings with a professionally published author from the Creative Writing Team. A second runner-up will receive a place on the online MA in Comedy Writing from Falmouth University – the first of its kind in the country. Bestselling author Marian Keyes has judged the Prize for the last two years and is now CWIP's supporter and patron. CWIP 2021 is also supported by Scrivener and The Writers' Guild. For more details about CWIP visit www.comedywomeninprint.co.uk.
The Comedy Women in Print Prize 2021 winners will be announced at an award ceremony at the Groucho Club on Monday 8th November 2021.