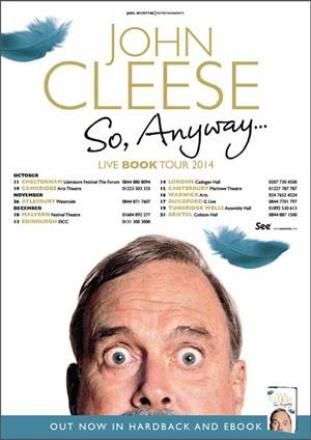 John Cleese is supporting publication of his memoir, So, Anyway… with a nationwide book and theatre tour this autumn.
The Monty Python star will perform his one-man show, based around the book, at theatres in Cambridge, Aylesbury, Malvern, Edinburgh, London, Canterbury, Warwick, Guildford, Tunbridge Wells, Bristol and at The Times and The Sunday Times Cheltenham Festival of Literature. Tickets include a signed copy of his book.
His first book signing will be held at Waterstones flagship London store in Piccadilly on publication day, 9th October. He will also sign at Heffers in Cambridge and Toppings in Bath; further signings are scheduled in the run up to Christmas and include WH Smith in Selfridges, London on 11th December.
So, Anyway is the story of how a tall, shy youth from Weston-super-Mare went on to become a self-confessed legend. Punctuated with John Cleese's thoughts on topics as diverse as the nature of comedy, the relative merits of cricket and waterskiing, and the importance of knowing the dates of all the kings and queens of England, this is a masterly performance by a former schoolmaster.
John Marwood Cleese was born in Weston-super-Mare in 1939 and educated at Clifton College and at Cambridge. He achieved his first big success in the West End and as a scriptwriter and performer on The Frost Report. He went on to co-found the legendary Monty Python comedy troupe, writing and performing in the TV series and in films that includeMonty Python and the Holy Grail and Life of Brian. In the mid-1970s, John Cleese and his first wife, Connie Booth, co-wrote and starred in the now-classic sitcom Fawlty Towers. Later, he wrote and co-starred in A Fish Called Wanda andFierce Creatures. He has appeared in many other films, from James Bond to Harry Potter to Shrek, and has guest-starred in TV shows that have included Cheers, 3rd Rock from the Sun, Will & Grace and Entourage.
Michael Palin is currently on a book tour promoting his latest volume of diaries, Travelling To Work, whicle Stephen Fry will also be hitting the road this autumn to promote the latest volume of his autobiography.
For further details of John Cleese's book tour click here.