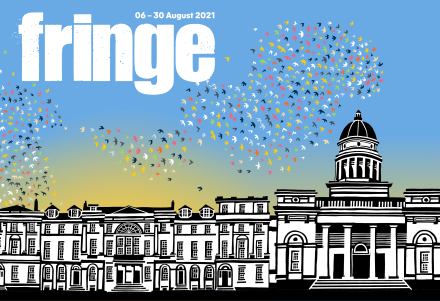 Tickets go on sale for the Edinburgh Festival Fringe today at edfringe.com.
Tickets for over 170 shows will be released at noon, with more programme details set to be announced weekly in the run up to the Fringe (6-30 Aug).
This year, for the first time ever, the programme features a range of both online and in person shows, with theatre, comedy, music, dance, musicals, variety, visual art, events and more represented.
The Fringe's world-famous street events will also be returning this August. More information on this will be announced next week.
More detailed information on registered shows can be found below, along with previews of future announcements from the likes of Assembly, Gilded Balloon, Dance Base, Pleasance, Laughing Horse Free Fringe Festival, C venues and Zoo.
Shona McCarthy, Chief Executive, Edinburgh Festival Fringe Society said: "After the year we've all had, it brings me an indescribable amount of joy to see Fringe shows going on sale. Fringe operators and artists have been working tirelessly to make this Fringe not only possible, but as safe, accessible and engaging as it can be.
Things will, of course, look a little different this year. But embracing the unknown and turning it into something magical is what the Fringe does best. I'm excited to see the ways that digital platforms are being used to create exciting, accessible work, and I'm inspired by the way producers and artists have adapted to the ongoing restrictions to bring live performance back to our lives. 
There's still work to do, and with the situation ever-changing, we'll be updating the programme and ticket site weekly. I'm proud of the resilience of our Fringe community, and we're excited to make this festival the very best it can be."
At time of writing, one metre social distancing will be in place (having come into effect from 19 July), masks should be worn indoors and regular hand washing and clear ventilation is strongly advised. Many Fringe venues are operating outdoors in 2021.
The Scottish Government has advised that regulations could lift on 9 August (contingent on covid levels and the continued vaccination roll out in Scotland and is subject to review).
With scheduled shows, audiences can buy tickets as they would to a traditional in-person event. Shows will have a dedicated start and end time and are treated as an 'appointment to view' event.
For on-demand shows, audiences can buy tickets to watch at their leisure.
Some online shows will have a viewing window (where the content will be available to watch for a set amount of time). Detailed information about how each individual online event is viewed is clearly available at the point of booking.
Fringe Player and other online platforms: Audiences can view Fringe shows via the brand-new Fringe Player. Available viaedfringe.com, this bespoke digital platform offers audiences an exciting new way to engage with Fringe content.
The player will be accessible to audiences from 6 Aug, with captioning built in. Both on-demand and scheduled online shows are available on this platform.
Where other platforms (such as Zoom, YouTube and Vimeo) are being used to host online work, information on how to access these is clearly provided at the point of purchase.
Online shows will be available to watch from August but can be pre-booked from today.
All events will be e-ticketed and shows will be listed online, as there won't be a printed programme this year. Audiences will be able to attend shows without using paper tickets. More information on ticketing can be found on edfringe.com.
Shows: More detail on a representative number of select shows can be found below. This is not an exhaustive list, and full details of all Fringe shows announced this week can be found on edfringe.com.
The Fringe Society provides free a personal assistant ticket for anyone who needs it. You can register for this by emailing [email protected]. They will also provide a bespoke access bookings service on the phone or in-person by appointment.
This year, they are also continuing our sensory backpack scheme for autistic people, to help make the Fringe experience as enjoyable as possible. Each bag includes a fidget spinner, earplugs, water bottle, stress reliever and a social story. These items are designed to help users relax and overcome stressful or intense situations. This year, to keep things as safe as possible, they are sending the bags out to key partner organisations who will distribute them to their users.
IN PERSON:
This year's Made in Scotland programme features an imaginative and thoughtful theatre programme. Amongst these is MOVE at Traverse @ Silverknowes Beach: a performance about migration, collective grief and communal healing (03-07 Aug in person; 24-31 online).
At Summerhall Secret Courtyard, tickets are available for Trevor Lock's participatory comedy show Community Circle (21, 24, 26, 28 Aug) and new work We Are Each Other (22, 25, 27, 29 Aug) - described as 'Trevor's new attempt at making a thing that only some people will like.' Also at Summerhall (and also part of the Made in Scotland programme) is Mamoru Iriguchi's Sex Education Xplorers (S.E.X.), which takes a time-travel ride through the evolution of sexes, celebrating our diverse gender identities and sexualities (06-08, 13-15, 20-22, 27-29 Aug).
At The Brunton at Musselburgh Racecourse, you can catch productions of two classic plays: Treasure Island (14 Aug) and Much Ado About Nothing (13 Aug). Both are performed outdoors, and rugs and cozy clothing are encouraged.
ONLINE:
Available via Summerhall Online, as british as a watermelon is an exploration of artist mandla's rae's fragmented asylum and migration memories. Told through poetry and storytelling, this work of autofiction asks questions about belonging, trauma and forgiveness (06-29 Aug).
Also at Summerhall Online, 2019 Scotsman Fringe First Award winner Eva O'Connor is presenting Mustard (16-22 Aug) - a darkly comic play about heartbreak, madness, and how condiments are the ultimate coping mechanism. O'Connor will also bring her new piece Afloat (06-29 Aug), set during a climate apocalypse in Dublin. PrimeCut returns with 2018's My Left Nut (06-29 Aug) -the true story of a Belfast boy growing up with no father to guide him through and a giant ball.
On FringePlayer, there's a two-woman retelling of F Scott Fitzgerald's The Great Gatsby (06-30 Aug).
There's a wealth of theatre to be found at [email protected], including Agave vs the Lion from Flying Solo! Presents, which was inspired by Euripides' The Bakkhai  (06-29 Aug).
IN PERSON:
There's a wide programme of live stand-up at the Corn Exchange this August. Acts already announced include Daniel Sloss, Craig Hill, Mark Nelson and Andrew Maxwell. You can buy tickets for Sloss, Hill and Nelson here now. 
The Grand Final of the 33rd So You Think You're Funny? will take place at Gilded Balloon Teviot (26 Aug). Semi-final shows are available to watch via Zoom throughout the month.
Improvised comedy group, the Improverts, can be found at theSpace @ Symposium Hall (06-28 Aug). Meanwhile, at theSpace @ Surgeon's Hall, Colin Thomas presents Trust Me, I Was The BBC Doctor, which details his 25 years at the BBC, and asks the audience to decide if he should be a national treasure (23-28 Aug).
ONLINE:
Set after India's landmark decriminalisation of homosexuality in 2018, Rajesh and Naresh at Summerhall Online is a Queer romantic comedy for the modern age (06-29 Aug).
Original comedy is also available on Fringe Player, including A Frickin Crazy Year from Austrian observational comedian Alice Frick (26-27 Aug).
IN PERSON:
Throughout August, Nothing Ever Happens Here gigs are taking place at Summerhall's Secret Courtyard, with confirmed acts including Meursault (07 Aug); Stanley Odd (14 Aug); Kapil Seshasayee (15 Aug); Siobhan Wilson (26 Aug) and Withered Hand (27 Aug).
Little Sparta are presenting an instrumental performance of their latest album Lost Boat Party at Dovecot Studios (06 Aug), and Dougie McLean will appear live at The Brunton Theatre (14 Aug). Later in the month, Chrissie Hynde is performing four stripped back shows at Queen's Hall, featuring a selection of Bob Dylan covers (22-25 Aug).
Semi-Toned: A Study in Burgundy at theSpace @ Symposium Hall is a mystery-themed show combining music and comedy (16-28 Aug, not 23); while in the same venue, The Carole King and James Taylor Story is a nostalgic look at the careers of two musical legends (06-28 Aug).
ONLINE:
ABCD'AIRS, Le Renard, is part of the French Institute's programme, and will see four French musicians perform a range of music, from Rameau to Kurt Weill (06-30 Aug).
At [email protected], Destroying Demons: Songs for Cello and Carnatic Violin features South Indian melodies blended with electronic sound effects and virtuosic improvisation (06-30 Aug). Also part of the programme is Hip-Hop Orchestra Experience - featuring music from Ensemble Mik Nawook, comprising an MC, soprano, winds, strings, piano, drums and a turf dancer (14-30 Aug).
Featured as part of the Made in Scotland programme, Simon Thacker presents the world premiere of Pashyanti on Guitar is at Summerhall Secret Courtyard, as well as on demand via Fringe Player. Thacker is a Scottish composer, classical guitarist, improviser and ensemble leader whose music draws on a deep immersion in diverse cultures. (11, 15, 20, 22, 25 & 29 Aug).
Dance, Physical Theatre and Circus
IN PERSON:
At Novotel, award-winning flamenco guitarist and composer Daniel Martinez joins forces with TuFlamenco to deliver authentic flamenco music and dance (06-29 Aug).
ONLINE:
Summerhall Online has a wide range of shows as part of the Taiwan Season, including Fighters, which features a fusion of hip-hop and contemporary dance set to a folk-techno soundtrack (06-29 Aug); The Back of Beyond, which charts the cycle of life from birth to death and rebirth (06-29 Aug); and ai~ sa sa, which offers a contemporary spin on tribal customs. It's performed by Tjimur Dance Theatre: the first contemporary dance company dedicated to Paiwan culture in Taiwan (06-29 Aug).
Also at Summerhall Online, The Receptionists is a physical comedy show about customer service by two Finnish female clowns (06-29 Aug); while in Dance EP, multidisciplinary artist DK FASH takes us on a journey of fused styles and genres via a compilation of conceptual dance short films (06-29 Aug).
Zip Zap Circus School Trust are bringing Moya to Fringe Player (06-30 Aug). This acrobatic art film uses traditional circus and indigenous dance to revisit the history of cultural art forms and explore themes of brotherhood, fraternity and race.
There are also children's shows, exhibitions and events. Check edfringe.com for details. 
Show announcements still to come
The landscape for live events has been incredibly uncertain for the last few months. The positive news that restrictions are easing in Scotland was announced just last week, and following on from that, many operators and artists have happily been able to progress with their Fringe planning.
The Fringe is nothing if not creative and adaptive, and even when faced with massively reduced timescales, Fringe artists and operators are still getting ready to announce new and innovative work.
As we all keep working to put on the best Fringe we can, we're excited to see more shows being announced over the next five weeks.
The Fringe Society will be announcing more tickets and shows on a weekly basis. Look out for more details on the following:
Army @ The Fringe intends to return from 06-22 Aug with a varied programme of in-person events including theatre, stand-up and illusion from a host of local and UK artists.
Assembly Festival will be running two sites and three venues from 23 Jul-29 Aug, including the Palais de Variete spiegeltent and an outdoor stage in George Square Gardens. In person and digital shows will be announced in the coming weeks.
C venues will be launching C arts, an online programme of independent international creative work across all genres, including theatre, dance, music, cabaret, spoken word, visual and performance art, film and video. The programme will include on-demand and live-stream productions, interactive and interdisciplinary performance, talks, workshops, and shows and events for all ages.
Dance Base, Scotland's National Centre for Dance, will be presenting a series of digital dance experiences and live shows for children and families in its Grassmarket studios. These will include digital shows and installations throughout the building, as well as in-person events with Barrowland Ballet and Buff & Sheen. There'll also be a digital dance channel as part of ZOO TV, featuring Iconnotations: a live stream and on demand performance by Matthew Hawkins & Red Note Ensemble at Greyfriars Kirk. The full Dance Base programme will go on sale 15 July.
Gilded Balloon, ZOO, Traverse Theatre and Dance Base will reveal a programme of work at MultiStory –a new outdoor venue from the four Fringe operators. Shows will be announced from 12 Jul, with tickets on sale from 15 Jul via edfringe.com and multistory.scot
At Gilded Balloon Teviot there will be a programme of live shows featuring Scottish-based comedy and theatre performers. Shows will be announced from 12 Jul with tickets on sale from 15 July at edfringe.com and gildedballoon.co.uk/tickets
Just the Tonic will soon be announcing a series of in-person shows, running from 06 -28 Aug
The Laughing Horse Free Fringe Festival will return with a limited programme of shows at its Counting House Hub, The Three Sisters and Hanover Tap. For the first time, they will be adopting a ticketed pay-what-you-want model to keep everything safe and controlled for social distancing at the venues. Alongside this, there'll be a programme of online free shows.
PBH's Free Fringe will be staging both in-person and digital shows throughout August. There will be 16 stages with many old favourites returning. A provisional programme will be announced in the first full week of July.
The Scottish Storytelling Centre is set to announce eight Fringe shows, with their programme running from 06-30 Aug.
Show information contained here is not exhaustive list, and a full list of registered shows to date can be found at edfringe.com.
The Edinburgh Festival Fringe will take place from 06 -30 August 2021. More information about the programme and tickets can be found at edfringe.com.