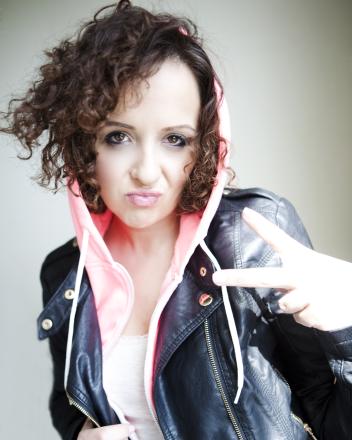 The first 100 shows in this year's Women In Comedy Festival have been announced. The annual Festival, which started last year, takes place around Greater Manchester from October 11 - 26 in over 16 venues.
Among performers confirmed are Jo Caulfield, Zoe Lyons, Janey Godley, Luisa Omielan, Felicity Ward, Jo Neary, Barbara Nice, Kate Smurthwaite, Tanyalee Davis, Dana Alexander and Jo Enright. Janey Godley comperes the opening night which features a line-up including Zoe Lyons and Kate Smurthwaite.
Isy Suttie, a patron of this year's Festival, has issued a statement supporting it: "It surprises me how many audiences haven't seen girls do comedy before, and some promoters are still very bad at booking women for their gigs," she says. "Anything that works to get rid of that being an issue by putting on funny women is fantastic and the festival is a brilliant thing." 
The Women in Comedy Festival was set up in 2013 by Hazel O'Keefe as a natural progression of her Laughing Cows female comedy clubs.
The clubs started in London in 1998 when O'Keefe took up the gauntlet thrown down by a well-established club promoter when he confessed that the reason he wouldn't book two female acts to play the same bill was that, 'I wouldn't take that risk'.
O'Keefe set out to prove that female comedians aren't some kind of bizarre specialist act or, the other common misconception, that all perform the same kind of material but in actual fact are as varied and as myriad performers as any comedian - regardless of gender. In addition, Laughing Cows set out to confound not just those mistaken promoters but some audience members who seem to think that they don't find women funny.
Sixteen years on and with the addition of Maureen Younger on the team, there are clubs all over the country including Birmingham, Wolverhampton, Leicester and Reading as well as in Berlin.
Click here for day-by-day Festival listings.