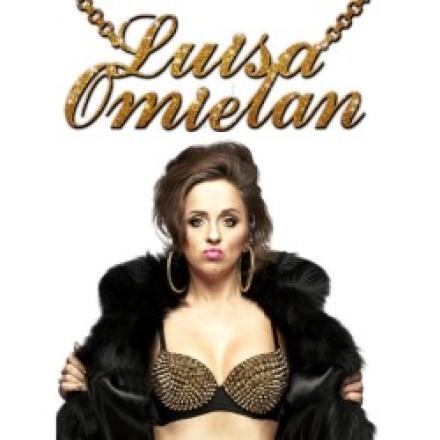 Laughing Horse @ The Counting House
****
Friday night in Edinburgh and the queue of predominantly women stretched down the stairs and out into the street. This was not a club selling Bacardi Breezers at 30p a shot but Am I Right Ladies?! – Luisa Omielan's sequel to her indestructible smash hit What Would Beyoncé Do? Think Bridget Christie is the funniest feminist? She has competition.
To say that this pocket-sized performer is a force of nature undersells her. She is dancing to pop and Springsteen before the audience has sat down and never lets up, ripping through an hour of anecdotes and thoughts about what it is like to be a woman today and what it could be like if only women stopped being bothered by the haters and took control. 
In some ways this is more entry level feminism than Christie's post-modern approach. A major theme is basically a Dove ad-style "love your body whatever shape it is" riff. But Omielan puts the point across more fervently than a thousand Caitlin Moran columns, underlining in the most literal, graphic way how ridiculous it is to worry about your thigh gap. Body fascism is, quite simply, out of control and needs to end. She is proud of her muffin top made up of a lifetime of mojitos and kebabs. 
Elsewhere her other issue is needing a man. Success has made her happy in some ways but it hasn't solved everything and has maybe even highlighted what is missing in her life. Early on she echoes the old Janis Joplin line about entertaining 10,000 screaming fans then getting to the hotel alone, except in her case it is making 250 fans scream and then getting the bus home. She is honest about wanting a lover, the problem is meeting one who has a dick but isn't a dick. While male comics get female groupies, men come up to her after gigs and instead of chatting her up comment on the size of her hooped earring. It is massive though.
She clearly touches plenty of nerves. Her list of things men do in bed that she hates gets a rafter-shaking roar, while a brief singalong to Adele has the whole room joining in in unison. Even the men. A more reflective passage about her problems with depression has the crowd hanging on her every word. But even here she finds plenty of laughs. Omielan has great comic timing, doing little Chaplinesque mimes when not bumping and grinding. Her face is so expressive she barely needs to speak to get her punchlines across.
This show has a little bit of audience participation, but compared to her last show it is fairly low-impact and shouldn't put men off. Am I Right Ladies?! manages to be riotous, raucous, dirty and intelligent, which is a pretty good trick to pull off. It's certainly not your typical Edinburgh show, but as well as pulling in the women it should also be compulsory for men. Maybe give out tickets on the NHS. It might give blokes a bit more insight and make them treat women better, saving the health service money on counselling. They should also find it very funny. Not just a big earring, a big talent.