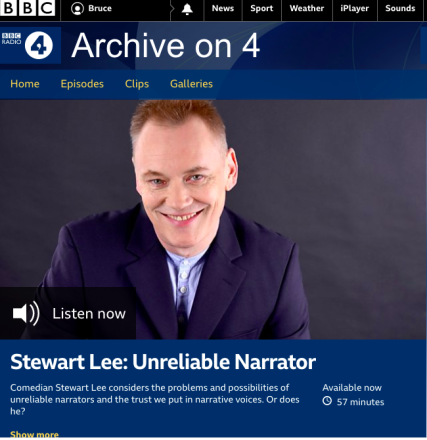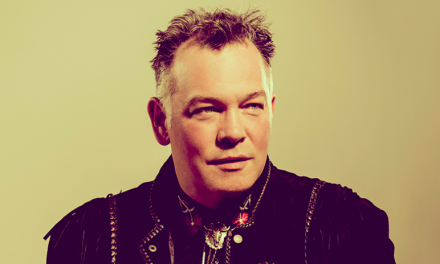 Someone at the BBC appears to have a finely honed sense of humour. Last week Stewart Lee's documentary, Unreliable Narrator, aired on Radio 4. The documentary is about the history of unreliable narrators and how truth and fiction have had a recurring tendency to be blurred. It also features Kevin Eldon, Rob Auton and Nish Kumar.
On the BBC website, however, the programme was promoted with a picture not of Lee but of former presenter of C4's The Word turned outspoken pundit Terry Christian. Readers familiar with Lee will be aware that over the years his appearance has been compared to a multitude of figures as diverse as Morrissey and convicted war criminal Ratko Mladić.
Beyond The joke assumed that the use of Christian's image was either a mistake, a prank or Lee's playful idea, but having asked him it turned out it wasn't part of the stand-up's plan. "I don't really know what happened there," replied Lee. "I saw that it was the wrong picture but I thought it was funny so I didn't say anything about it. 
I am in a carefully and deliberately maintained zone of unrecognisability so it could have been a genuine mistake. Resources are very stretched these days in TV and radio."
This is not the first time the similarity between Lee and Terry Christian has been noted, he added: "When I am stopped in the street by someone who says, 'You're famous aren't you. Can I have an autograph?', I have signed as Terry Xian, Ali Campbell, Todd Carty, Roland Gift, and Richard Herring, amongst others, depending on my current weight and theirs, and levels of fame, and no-one ever queries it.
I was mistaken for a member of The Dirty Three and let into a show of theirs in a tiny club in LA in 1995. I assume it was the drummer. 
I have also been mistaken for Peter Case twice (Plimsouls/Nerves) 20 years apart, at THE SAME VENUE!! (Borderline) as we both aged in the same way
That old Scottish woman from the Culture Show thought I was the novelist Dan Rhodes.
Jonathan Meades thought I was Edwyn Collins when he saw me in a street in Pisa in 2005, and greeted me as such.*
(The man who is secretly) Kendo Nagasaki lives opposite our old stage manager in Blackpool and thought I was somebody called Grado (?), whoever he is, but he said I wasn't looking after myself. Insane! 
Patti Smith thought I was Phil Gammage from a group called Certain General when we were at a William Blake Society thing, and he is about 7 years older than me and wasn't into William Blake
The poet Elizabeth Jennings thought I was from a boy band when she sat opposite me in a cafe in Oxford in the 80s, but I never worked out which one
Maybe someone at the BBC thought it was funny given the subject material to use the wrong photo, which it is. Apparently there is some kind of internet meme about me looking like other people, so perhaps it is to do with that."
The BBC has been tight-lipped about who was actually reponsible for using the picture of Terry Christian, but a BBC insider has confirmed that it was intentional and in keeping with the theme of the programme and definitely not an error by a shortsighted picture researcher. 
Stewart Lee: Unreliable Narrator is on the BBC Sounds; Rescheduled 2022 dates of Stewart's 2020 tour are now on sale
Actual Stewart Lee picture is by Idll Sukan.
*come to think of it meades in Pisa was 2006. He shouted 'Edwyn Collins! At last! Civilisation!"