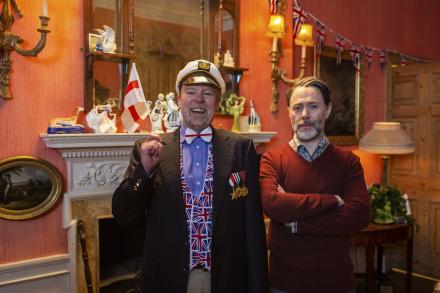 This excellent series finished on a high note with Last Night of the Proms, which kind of had everything from farcical laughs to brutal violence to political subtext.
The scene was set as a clan gathered in front of the television as they always do, to watch the famous flag-waving final event of the annual Proms season. But tensions soon arise over the nature of patriotism and nationalism, with each member of the group getting irate in their own particular way.
You cauld probably call this Inside No 9's Brexit episode if you like, complete with Steve Pemberton as the jolly union jack wearing host Mick, plus Sara Parish as his wife Dawn, and Reece Shearsmith as resentful husband Brian, whose wife Penny (Debra Gillet) was desperately in need of love. But things are never that simple in the Inside universe...
The cast also included veteran actor Julian Glover as elderly Ralph and Jack Wolfe as Oliver.
And just as you got a handle on the story, directed by Matt Lipsey, up popped a mysterious bearded figure in white (Bamshad Abedi-Amin). The Second Coming or just a refugee seeking asylum?
Needless to say the turn of events will take you by suprise so just in case you have not watched it yet we won't say too much here.
Interestingly on social media some people have been saying this is the best epsiode ever, some people saying it is the worst. Which if nothing lese shows that this anthology series continues to arouse strong feelings. One thing is for certain, even a less than brilliant episode of Inside No 9 is better than most of the unimaginative tosh that passes for TV these days. 
Watch every episode of Inside No 9 on BBC iPlayer here.
Last Night of the Proms Picture: BBC/Sophie Mutevelian