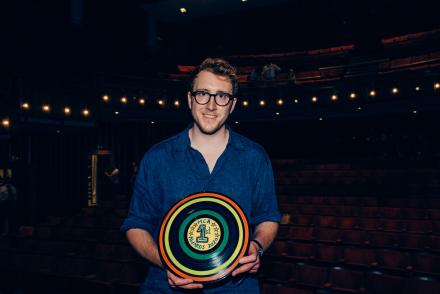 After a brief interval there was a change of tone with trio Canadians in Space who, as if it needed to be explained once their Yorkshire accents emerged, were neither Canadians or from space. They were, however, from the Flight of the Conchords universe, with some deftly constructed songs that told little stories. Their highlight was a number about possible incest – trust me, it was funnier than it sounds but it did go on a little too long. 
Amy Webber – the only solo woman in the final - had certainly dressed for the occasion in a green frock that suggested she had just come direct from the pages of a Jane Austen novel. She certainly had a novel approach to her set, deciding to deliver a musical version of her job application CV, followed by a musical sort-of-improvised overview of the day's news. Webber showed crowdpleasing promise and it was no surprise she was chosen as audience favourite on the night. 
Webber's strong finish was followed by the strongest act of the night. Alex MacKeith was another guy with a guitar but there was a punchiness to MacKeith that helped him to make an impact. It was interesting that few acts mentioned Covid. MacKeith did not shy away though and his comic number about spending lockdown with his dad ticked all the right comedy boxes and helped him to be crowned winner. 
Double act Stepdads are now old hands at comedy competitions and have been placed before but this was not to be their night. Their high energy brand of comic mayhem and costumes usually wins over the crowd and maybe they suffered because of the lack of a packed house. Or maybe Luke Rollason's naked Christmas tree costume complete with fake cock and balls was a step too far. Who knows, maybe they will be back next year. 
Finally Bennet Kavanagh came on carrying his keyboard to close the competition. Earlier in the day Bill Bailey had championed the awards on Twitter and maybe Kavanagh was the closest to Bailey in style – silly, smart and not averse to mashing up dance music and Gregorian chants. Bailey wasn't one of the judges but maybe he would have given Kavanagh his vote. The judges did like him though and awarded him a deserved third place.
Altogether a great night, with some solid hosting from Nick Horseman and a set from 2019 winner Jazz Emu. Plus a turn for Best Newcomers Best Friends Cabaret, who came across like a younger, slightly cooler Fascinating Aida.
Roll on next year when hopefully the show will take place in front of a full house.
You can watch the final again – or for the first time – here: www.wegottickets.com/musicalcomedyawards 
Alex MacKeith picture by Elina Kansikas
Pages