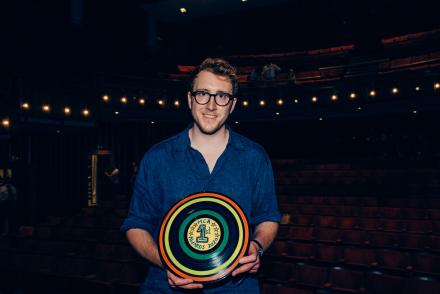 As we stagger back towards post-pandemic normality it was good to see the Musical Comedy Awards Final return to the Bloomsbury Theatre. A small socially distanced audience got to sit in the venue. while the rest of us, including the judges, could enjoy the experience online from the comfort of our sofas.
And it was certainly a pretty good experience. If there wasn't a great deal of diversity in the acts, many of whom gave off a fairly strong middle class, white whiff, there was at least plenty of diversity in styles, showing that the musical comedy genre is a very broad church indeed.
First up were double act Shelf – Rachel WD and Ruby Clyde – who packed plenty into their short set after quipping that actually they were a musical single act as Rachel was tone deaf. What Rachel lacked in pitch, however, she made up for in dancing and comic interruptions as Ruby sang a song about becoming gay after a recent break-up. If the world is ready for a female, musical Cannon and Ball look no further. 
Chris Rio was the first of a few white men with guitars* who all appeared superficially the same but actually had distinct personalities. Chris's angle was his nerdy anxiety and he had a nice polite gentle rap about pretending to be straight. Impressive in flashes but not consistent enough to justify a placing. 
2 Mouthed Men offered more rap with some nifty beatboxing in for good measure. They were certainly skilful but it felt like a slightly dated approach to comedy. There are plenty of beatboxers already out there and their comedy did not add enough to the mix to trouble the judges. One song utilising bodily sound effects and a sporting audience member (or possibly a friend/plant?) was their stand-out skit.
Tom Taylor has been around for a while and had a confident way with the audience and an engaging, winningly offbeat personality which landed him second place on the night. Maybe a little too much like David O'Doherty with his tiny keyboard perched on his knee but then whimsical one-liners have not held O'Doherty back. It was not always easy for the acts as there was not a great deal of energy in the room to feed off but Taylor made the most of his allotted time. 
Jamie Finn was in the final last time round - way back in 2019 – and it is easy to see why he gets through the qualifying heats. His songs have a quirky, idiosyncratic appeal and his self-deprecating wit adds something to the mix too. He didn't figure in the placings this time round but maybe he will be back next year and it will be third time lucky. 
*update: apologies, Rio hactually had a ukelele