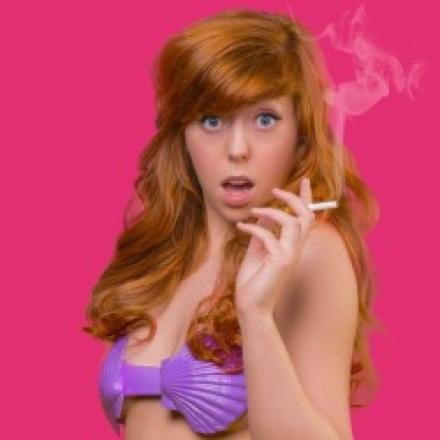 The Museum of Comedy is to stage its own pick of the Edinburgh Fringe mini-festival from Sept 13 - 28. The Bloomsbury museum, which opened earlier this year will be putting on gigs in its Cooper Room. Tickets for the shows will also include a ticket for free entry to the museum on the same night.
Among those appearing are Rebecca Humphries (pictured top), whose solo tribute to Disney, reviewed here, was one of the hits of the Free Fringe, multi-media guerilla comedian David Trent, five star sleeper hit Andrew "Feminism for Chaps" Watts and Joe Bor, in the guise of comedy character Jasper Cromwell-Jones. Also appearing is Will Franken (picture below), who just won Best Performer at the Fringe's inaugural Barry Awards for his latest show entitled The Stuff They Put In Sleep. Full listings for the Museum are below. Ticket link here.
Sat 13th Sept
7.30pm 
News Revue 2014
£15.00 (concs - £12.50)
News Revue returns to London for one night only. Nobody is safe: from Putin to Pistorious, politicians and celebrities alike come under fire in a barrage of bladder-threateningly funny songs and sketches brimming with punchlines. This Guinness World Record-breaking show is delivered by four performers at lightning speed expertly accompanied by an onstage Musical Director.
Sun 14th Sept
7.00pm
Husband's Half Hour
£5.00
Old-fashioned variety with new-fashioned friends. Susan Husband hosts this monthly podcast, joined by sketch acts and resident jokers alike. Expect topical chat with special comic guests, questions from the audience and a bit of a sing-song. Like The Muppet Show but a smidgen more human.
Mon 15th & Mon 29th Sept
7.00pm 
The Fortnight Club
£5.00 
The Fortnight Club is the longest-running new material night in the UK, possibly the world. Now in its third glorious decade, this night fittingly finds a new home at the Museum of Comedy. Ronnie Rigsby, the Fortnight Club's resident compere from the very beginning, hosts this night that regularly sees TV and touring comics drop in unannounced to test new material. Guests to include Stephen Carlin, Celia Pacquola, Darren Walsh, Simon Clayton, Jessica Fostekew, Joey Page and Logan Murray. 
Tues 16th  Sept
7.00pm
David Trent - Live At The Pleasance Courtyard In Performance At The Museum Of Comedy In London
£10.00
David Trent's debut at the Museum of Comedy is a high-octane audio visual onslaught that promises to be the ultimate in Trentertainment™. This show contains: "Projections. Shouting. Film. Shouting. Audio. Shouting. Shouting. The end."
Tues 16th  Sept
8.30pm
Erich McElroy – The British Referendum
£10.00
American satirist Erich McElroy will be performing his brand new show - inspired by the forthcoming referendum for Scottish independence - two days before the Referendum itself. 
Weds 17th Sept
7.00pm
Milo McCabe – Troy Hawk
£10.00
Character comic Milo McCabe brings his hit Edinburgh show to London. Troy Hawke, a home-schooled naïf with a 1940s sensibility, is deeply perturbed at the lack of character building adversity available to him as a white middle class male in the modern era.
Weds 17th Sept
8.30pm
Jasper Cromwell Jones – This is Not a Holiday
£10.00
Follow the posh adventurer on his latest adventure. Starring Joe Bor, the award winning comedian and TV warm up for Mock The Week and The Graham Norton Show. Featured in the top jokes of the fringe in The Mirror, The Independent and The Scotsman. Also starring Samantha Baines.
Thurs 18th Sept
7.00pm
Will Franken – The Stuff They Put in Sleep
£10.00
Critically acclaimed surreal character comedian of myriad personalities unveils his latest rapid fire absurdist assault on the fragilities of human identity, platitudes of postmodern sanctimony, and presupposition of collective reality. An hilarious orphic descent into a depraved, unapologetic subconscious propelled by the manifold voices of one man. 'The darkness of Franken's imagination is like Chris Morris ... you can't take your eyes off these inspired outpourings' **** (Guardian).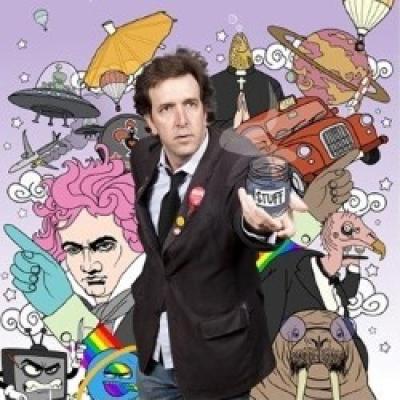 Thurs 18th Sept
8.30pm
Caroline Mabey – Chaos is a Friend of Mine
£10.00
When "oddball genius" (Chortle) Caroline Mabey became a mother, she discovered that idiocy and egomania are genetic. Held hostage by her baby, she's become a victim of Stockholm- or is it Tourettes? - syndrome. Here she bursts out of confinement to delight and traumatise audiences in this thrillingly daft one-woman fun-blast.
Fri 19th Sept
7.00pm
Steve Day Faces The Deaf Sentence
£10.00
Steve Day was witness to a crime. Little did he know that being deaf with no malice aforethought would make him the accused and a fugitive from justice. If he ever used to 'deaf it up' to get gigs and advancement and felt guilty about it, this was payback in the highest court in the land. Sort of...
Fri 19th Sept
8.30pm
Joz Norris – Awkward Prophet
£10.00
A show about an asexual boy who desperately wants to be in a relationship but has no idea why, other than that he saw it in a Richard Curtis film. 
Sat 20th Sept
7.00pm
George Ryegold – Iron Face in a Velvet Beard
£10.00
Award-winning comedian and eminent physician Dr George Ryegold is back with the truth about economics, Greek mythology, drugs and the joys of gun-play plus the key to world peace. Amused Moose Laughter Awards Top 10 Comedy Show 2013, Scotsman's Top Five Comedy Show at the Fringe 2012, Winner of Best Show at Dave's Leicester Comedy Festival 2011. 'Absolutely on form...Quite brilliant' **** (Kate Copstick, Scotsman). 'Tremendous fun' ***** (ThreeWeeks). 'His scholarly, lexiconic examination of western attitudes to culture, debauchery and money is explosive' Fest.
Museum of Comedy post-Fringe listings continue here.