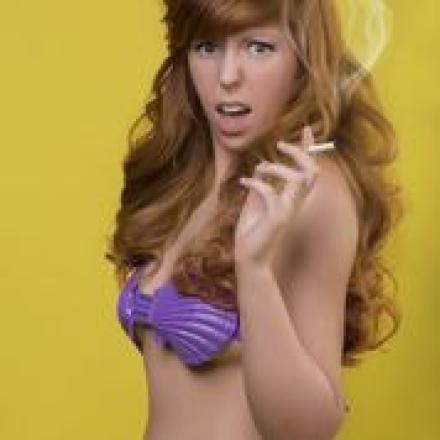 ****
What do you want from your Edinburgh Fringe show? If you want to gaze into the existential abyss for 60 minutes then Alfie Brown might be a good bet. But if it's a fun, escapist hour after a hard morning's shopping then this daytime show from Rebecca Humphries is bang on.
Dizney Rascal is Humphries' comic celebration of all things Disney. She is obviously a genuine fan – you'd have to be devoted to have sat through the stinkers as well as the goodies in the name of research. In her fast-paced music-and-chat set she takes us through the Disney oeuvre exploring the ups and down of the cartoon empire and picking out particular themes.
Apart from a slightly awkward section exploring representations of race and religion this is not remotely deep but it is very funny. The pithy humour is typified by her early song, with the chorus "Disney touched me". She means emotionally and I hope the cartoon company's lawyers see it the same way. Onstage Humphries is a bubbly, down-to-earth redhead and she sells every song as if it's the opening night on Broadway rather than a basement bar at lunchtime off Princes Street.
Elsewhere she cuts between live action and (slightly clunky) video where Disney characters are portrayed by her as if they are the cast of Girls and looking for advice – hey, if you had a fish tail like The Little Mermaid you'd have emotional issues too. Humphries also confesses to a slightly kinky fondness for the movies, wondering why it is wrong to fancy the animals when the film-makers make them look so sexy – cue pictures of pooches sharing spaghetti in The Aristocrats. 
It would be unfair to compare this show to Bridget Christie's set or even Luisa Omielan's feelgood hour. It's not sophisticated or intellectual, it's sheer frothy crowdpleasing entertainment and it does that really well. The writing isn't always perfect but it is a great showcase for Humphries' performance skills. She can certainly sing, she can certainly make you laugh and she can certainly take your mind off your overdraft for an hour. When it comes to animated performers she is hard to beat.