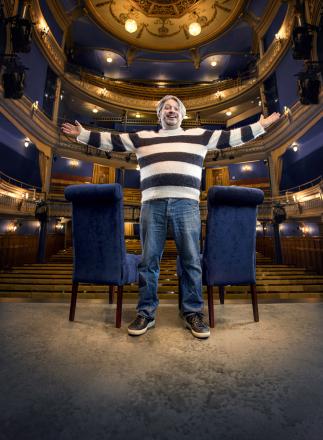 Richard Herring has confirmed further names for his upcoming RHLSTP interview shows. They will take place at the Clapham Grand in south London and there will be a socially distanced audience.
Upcoming interviews are as follows:
24th May at 6.30pm (doors) Sarah Kendall + TBA
31st May at 2pm (doors) Johnny Vegas + TBA
7th June at 6.30pm (doors) Two guests TBA
14th June at 6.30pm (doors) No Such Thing as a Fish + TBA
5th July at 6.30pm (doors) Robin Askwith + TBA
Before then there will also be a live Twitch interview with Felicity Ward on May 12.
All ticket links are here.
Earlier this year Herring had a testicle removed after concerns about it. After it was removed and tested it turned out that it was cancerous. "The bad stuff was all safely ensconced inside my ball like the hazelnut in the middle of a Ferrero Rocher and has not spread, so it's all out."
Herring has now said that he might write a book about his experience. Writing on his blog he suggested that the "working title of the book is 'Never Mind My Bollock' but I learned from Talking Cock that rude words in the title might be off-putting."