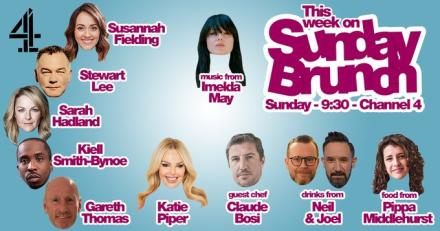 I don't usually watch Sunday Brunch at the moment. The cheery bonhomie of presenters Tim Lovejoy and Simon Rimmer can be a bit much on my day off. But according to the tweet posted yesterday comedian Stewart Lee is one of the guests so I will pop it on this week.
Sadly Lee isn't presenting the programme, and at this stage I don't know if he will be in the studio or getting with modern technology and appearing via Zoom. I hope he's in the studio and gets to taste and comment on the food and tell them what his favourite biscuit is.
This might be the first time Lee has appeared on Sunday morning television since with Richard Herring he co-hosted the enoyably cheeky This Morning With Richard Not Judy in the 1990s. A lot of comedy water has passed under the bridge since then and Lee has evolved from sarky hipster whippersnapper to elder statesman of stand-up, generally regarded as one of the finest stand-ups of his era.
I guess he will be on the show to mention that he will be touring again. His latest live dates will still be called Tornado/Snowflake which was the name of his last two-part live tour but one can expect the show to be significantly updated by the time he hits the road.
He might also mention the fact that he has a new single out. His cover of a song by The Nightingales is to be released along with a new song by The Nightingales.
Stewart Lee recorded a cover version of the Nightingales song Use Your Loaf  with Nick Pynn for a mooted tribute album. It now appears on the limited edition 7 inch single also featuring Ten Bob Each Way, which is a brand-new Nightingales recording, their first since recording their 'Four Against Fate' album. Lee last appeared on TV earlier this year on the documentary he made about the band.
The other guests on the show include Susannah Fielding, direct from This Time With Alan Partridge, Sarah Hadland from Miranda and lots more and Kiell Smith-Bynoe from Ghosts. Plus former rugby player Gareth Thomas. Katie Piper and music from Imelda May.
Sunday Brunch, Sunday, May 2, 9.30am, Channel 4.