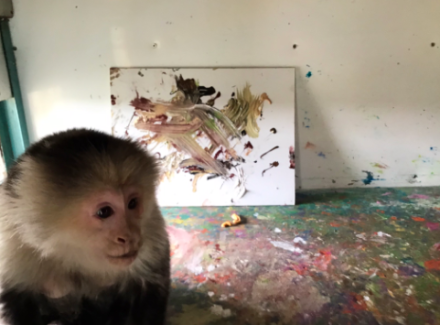 An auction set up by Feline Friends London a London-based cat rescue charity, has hit over £3,000 as the bidding war continues for the portrait of Ricky Gervais and Jane Fallon's cat 'Pickle'.
Pockets Warhol, a capuchin monkey who lives at Story Book Farm Primate Sanctuary, Ontario, Canada donated a painted portrait of Ricky Gervais and Jane Fallon's rescue cat 'Pickle' in order to raise funds for Feline Friends London, the cat-charity which rescued Pickle. Feline Friends London set-up the auction to raise funds to help the charity pay for vet bills and save more lives. 
'Pickle' was one of 16 cats from a hoarding situation in London in late 2020. Pickle was placed into foster care with actor and comedian, Ricky Gervais and Jane Fallon, author of Queen Bee, and they soon fell helplessly in love with her, deciding to adopt her after just 3 days. Pickle is now a well-known fixture on social media, having her own Twitter account @PickliciousF amassing over 47k followers and features on both Ricky and Jane's Instagram and Twitter accounts daily [here & here]
Ricky Gervais has also backed the auction, throwing in an additional signed autographed photo of himself and Pickle. The auction is now at a bidding war which will be ending at midnight [UK Time] on Sunday 2nd of May.

The donation of this portrait is particularly meaningful for Feline Friends London as COVID has limited the charity's fundraising activities this year, meaning all donations and funds are vital for the charity to continue their work.