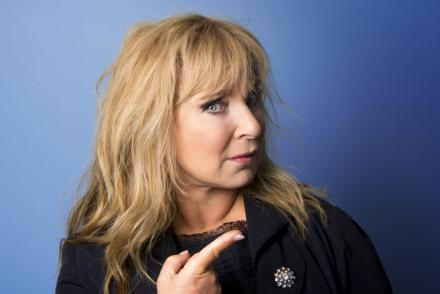 The Comedy Women in Print Prize 2021 (CWIP), the UK and Ireland's first prize to shine a light on witty women, today announces a stellar line-up of judges as submissions open for the award's third year (Monday 12th April). Created by actress, author and stand-up comedian Helen Lederer, CWIP was launched in 2019 in response to the lack of support and exposure for female comedy writing and as a way of discovering new talent.
The Prize will be open for submissions in two categories, for Published Comedy Novel and Unpublished Comedy Novel for new writers, from Monday 12th April until Friday 28th May – slightly later than previous years following the delay of the 2020 winners' announcement due to the coronavirus pandemic.
Award-winning author of Chocolat and Chair of the Society of Authors Joanne Harris will chair the judges for the CWIP Prize for Published Novel. Harris is joined by actress, comedian and writer Maureen Lipman (Educating Rita, Coronation Street); Channel 4 presenter Steph McGovern (Steph's Packed Lunch); author Cathy Rentzenbrink (The Last Act of Love); 2020 CWIP winner, Nina Stibbe; and award-winning actor and writer Susan Wokoma (Enola Holmes, Chewing Gum).
The judging panel for the CWIP Prize for Unpublished Novels is chaired by journalist, editor and interviewer Sarah Shaffi. Shaffi is joined by Martha Ashby, Editorial Director at HarperFiction; winner of the 2020 CWIP Unpublished novel category, Faye Brann; broadcasting legend and regular 'Loose Woman', Gloria Hunniford; stand-up comic and actress Thanyia Moore; and Dr Jennifer Young, Head of Writing and Journalism at Falmouth University.
Helen Lederer, founder of CWIP, says: "To my complete delight (and just a little shock!) CWIP has gathered even more support in its third year: laughter and reading has never been more valued or needed. I thought it might be a struggle in lockdown, but more people than ever want to be told about the funniest book to read and celebrate witty writers. I hope CWIP has offered a way through isolation by celebrating funny books and encouraging new writing. The range and quality of this year's judges has taken my breath away, especially as last year's winning authors are also judging. Their support in nurturing new witty writers and celebrating existing one proves that CWIP can be original as well as inclusive."
Joanne Harris, award-winning author and chair of CWIP's judging panel for Published Novels, says: "I'm really looking forward to working with the great team of judges on the CWIP Prize, helping raise the profile of women writers of all backgrounds, cultures and experiences."
Sarah Shaffi, journalist and chair of CWIP's judging panel for Unpublished Novels, says:
"I've been a fan of the CWIP Prize since it started, and I cannot wait to read the work of talented, witty, funny women, and help bring them to a new audience."
Entries for the awards are now open and the closing date for submissions is Friday 28th May 2021. The CWIP published winner will receive a cash prize of £3000 from the Author's Licensing and Collecting Society (ALCS). For the unpublished category, recognising rising comic talent, the winner will receive a publishing contract and a £5000 advance from HarperFiction. The unpublished runner-up receives a place on the University of Hertfordshire MA course in Creative Writing or Writing Mentorship, consisting of four meetings with a professionally published author from the Creative Writing Team. A second runner-up will receive a place on the online MA in Comedy Writing from Falmouth University – the first of its kind in the country. Bestselling author Marian Keyes has judged the Prize for the last two years and is now CWIP's supporter and patron. CWIP 2021 is also supported by Scrivener and The Writers' Guild. For more details about CWIP and full terms and conditions visit www.comedywomeninprint.co.uk.
Previous winners of the published prize are Nina Stibbe for Reasons to Be Cheerful in 2020 and Laura Steven for The Exact Opposite of Okay in 2019. The 2020 winner of the unpublished prize Faye Brann will see her debut novel Tinker, Tailor, Schoolmum, Spy published in September 2021, and Kirsty Eyre's winning novel Cow Girl was published in September 2020, both by HarperFiction. Runner up of the 2019 Unpublished prize Abigail Mann's debut novel The Lonely Fajita is out now, and her second novel The Sister Surprise is currently available in audiobook and will be published in paperback on 24th June 2021 (One More Chapter). Special recognition prizes have also been awarded to Ruth Jones, Mavis Cheek and Jilly Cooper.
The Comedy Women in Print Prize 2021 winners will be announced at an award ceremony at the Groucho Club on Monday 8th November 2021.
KEY DIARY DATES:
Friday 28th May 2021: Closing date for submissions

Wednesday 21st July 2021: Longlist announcement

Wednesday 22nd September 2021: Shortlist announcement

Monday 8th November 2021: CWIP Winners' announcement and event
Novels entered for the published award need to have been published between 2nd March 2020 and 12th April 2021 to be eligible for CWIP 2021. For the unpublished category, entrants are asked to submit a one-page synopsis and the first 5,000 words of their comedy novel, which, when completed must amount to a full-length novel. Entrants can be of any nationality but must be over 18-years-old. For more information visit www.comedywomeninprint.co.uk.
ABOUT HELEN LEDERER, FOUNDER OF CWIP
Helen Lederer is probably best known as part of London's Comedy Store comedians, including Dawn French, Jennifer Saunders, the late Rik Mayall and Ben Elton, and for her roles in Absolutely Fabulous and the BBC comedy sketch show Naked Video. TV credits include Saturday Night Live, Happy Families, Hollyoaks, Bottom, Miss Marple among others. She starred as Rich Aunt Ruby in Horrid Henry: The Movie. Radio credits include 'Life with Lederer', her own comedy series 'All Change' and writing and presenting Pick of The Week for BBC Radio 4. She is a much sought-after panellist having appeared on shows such as The News Quiz, Just a Minute, Quote...Unquote, A Good Read, Open Book and Woman's Hour. Her show at the Edinburgh Festival 'I Might as Well Say It' was sold out to rave reviews. She is not only a comedian and actor but also a comedy novelist. Her first novel Losing It (Pan Macmillan) was nominated for the Bollinger Everyman Wodehouse Prize for Comic Fiction. She is currently working on her comedy memoir. Helen was a columnist for Woman and Home, is currently guest columnist for the i Newspaper, writes for The Telegraph, and is currently the 'agony aunt' for Woman's Weekly. She has also contributed to Stories to Make You Smile, a co-commission between The Reading Agency and Specsavers for World Book Night 2021.
ABOUT THE JUDGES – PUBLISHED PRIZE
JOANNE HARRIS MBE – CHAIR
After studying at Cambridge Joanne taught for 15 years, during which time she published three novels, including Chocolat (1999, later an Oscar-nominated film). Since then, she has written 18 more novels. She is a passionate advocate for authors' rights and is currently the Chair of the Society of Authors (SOA) and member of the Board of the Authors' Licensing and Collecting Society (ALCS). She is currently co-writing a stage musical and lives with her husband in Yorkshire.
DAME MAUREEN LIPMAN DBE has played what she calls "a stroppy and mean" grandmother Evelyn Plummer in Coronation Street since 2018. She has a long and distinguished career in acting, comedy and writing for theatre and television, including as a member of the Royal Shakespeare Company and as Joyce Grenfell in the biographical Re: Joyce which she co-wrote. Her film roles include in Up the Junction (1968) and The Pianist (2002). In 1987 she became a household name as Beatrice Bellman, a Jewish grandmother in the British Telecom commercial.
STEPH MCGOVERN is the presenter of Steph's Packed Lunch on Channel 4. She is also a regular host of Have I Got News For You on BBC One. Prior to this, Steph worked in financial journalism for over 15 years and spent eight years on BBC Breakfast. She presented Made in Great Britain for BBC Two and co-presented Watchdog, Shop Well For Less and Easy Ways to Live Well BBC One. Originally from Middlesbrough, Steph started out as an engineer at Black & Decker. She is a mentor for young people in Teesside and a patron of the charity Rubies.
CATHY RENTZENBRINK is the author of The Last Act of Love, A Manual for Heartache and Dear Reader: The Comfort and Joy of Books. She speaks and writes regularly on life, death, love, literature, literacy and mental health, and is often to be found doing bookish events at festivals, in shops and libraries, and in prisons. Her first novel, Everyone is Still Alive will be published in July 2021 (Phoenix Books). She has worked for The Bookseller, The Reading Agency, Quick Reads, and spent 10 years at Waterstones.
NINA STIBBE is last year's Comedy Women in Print Prize winner, for her novel Reasons to Be Cheerful (also awarded the Bollinger Everyman Wodehouse Prize for Comic Fiction). Her collection of letters from her years as a nanny at the heart of 80s literary London, Love, Nina, won Non-Fiction Book of the Year Award at the National Book Awards 2014 and was also adapted for BBC television.
SUSAN WOKOMA is an actor, writer and rising star, a BAFTA Breakthrough Brit with a diverse and award-winning body of work across film, television and stage. She was a member of The National Youth Theatre before training at RADA. Her screen roles include Enola Holmes (2020), Simon Pegg and Nick Frost's comedy-horror series Truth Seekers (2020), Channel 4's Year of the Rabbit (2019), Michaela Coel's BAFTA Award Winning series Chewing Gum (2015/2016) and BBC's Dark
Mon3y (2019). She wrote and starred in award-winning SKY Comedy short Love the Sinner and is currently developing a project with Netflix and Complete Fiction. Susan has just wrapped on Sara Sugarman's Save The Cinema, which will be released later this year.
ABOUT THE JUDGES – UNPUBLISHED PRIZE
MARTHA ASHBY is Editorial Director at HarperFiction, and has worked in publishing for more than a decade. She works on a wide range of commercial fiction, from breakout stars like Gail Honeyman and Beth Morrey, big brands such as Mhairi McFarlane and exciting debuts including Donna Freitas and is always looking for writing which can move the reader – to laughter, to tears or both at the same time!
FAYE BRANN is last year's CWIP winner in the Unpublished category and her winning manuscript, Tinker, Tailor, Schoolmum, Spy, will become her debut novel when it is published by HarperCollins in September 2021. She began her writing career in Dubai after giving up corporate life to have a baby, do improv comedy and gain an MA in Professional Writing from Falmouth University. Back in London, she divides her time between performing on stage (when permitted) and working as a freelance copy editor.
GLORIA HUNNIFORD OBE is a prolific broadcaster, from chat show and current affairs host to presenter of lifestyle and consumer programmes, including ITV's Loose Women and BBC One's Rip Off Britain. She was the first woman to have her own daily show on BBC Radio 2 and has won many prestigious awards, including TV Personality of the Year and Radio Personality of the Year. She is patron of a number of charities including her own Caron Keating Foundation. In June 2017, she was awarded an OBE for services to cancer charities.
THANYIA MOORE is an actress, comedian, writer and presenter from London. She was crowned Funny Women Champion in 2017 and reached the semi-finals of the BBC New Comedy Award in 2018. She has performed across the world alongside some of the best-known comics on the scene today, including Desiree Birch, Ellie Taylor, Sarah Millican and Richard Blackwood. Her acting credits include the Bafta winning children's series Jamie Johnson (CBBC) and comedy drama Pure (C4).
SARAH SHAFFI – CHAIR
A freelance literary journalist and editor, Sarah's work has appeared in publications including Stylist, Vogue Australia, Boundless and The New Arab. She was a judge for the Jhalak Prize 2019 and the Orwell Prize for Political Fiction 2020 and served as managing editor at Penguin.co.uk. She is editor- at-large at independent children's publisher Little Tiger Group. She regularly chairs author events and is co-founder of BAME in Publishing, a networking group for people of colour in publishing.
DR JENNIFER YOUNG was born in a small textile town in North Carolina, USA and moved to the UK in 2001. She has since completed a PhD, become the daughter-in-law of a Catholic priest and gained British citizenship. Her novel Cold Crash won the Cinnamon Press Debut Novel Prize in 2016, and her second novel, The Running Lie, came out last year. She is Head of Writing and Journalism at Falmouth University.