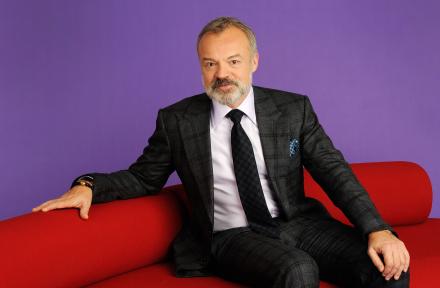 Update - this will no longer go out tonight (9/4), waiting to find out when it is rescheduled. Update 12/4 - this edition will now go out on BBC One, Friday 16th April at 10.45pm.
On tonight's show (9th April) Graham is joined by Hollywood superstar Tom Cruise, his Top Gun co-stars Jennifer Connelly and Miles Teller, British actors Felicity Jones and Wunmi Mosaku, top comic John Bishop, with music from Years & Years. 
Tom joins Graham in the studio – for the first time outside his film bubble – to chat about his new film Top Gun: Maverick.
Asked why after 35 years he is reprising the role of Maverick, he says, "For years the studios and audiences wanted me to do it and then Jerry Bruckheimer wanted to do it, so we talked and came up with some good ideas.  It was just that moment when I thought, 'if I'm going to do this, now's the time.'" 
Talking about not using a green screen and doing all his own stunts, he says, "I am a very physical actor and I love doing them.  I study and train and take a lot of time figuring it all out.  I have broken a lot of bones!  The first time of any stunt is nerve wracking but it also exhilarating.  I have been told a few times during shooting a stunt to stop smiling!" 
Asked what he has been doing during lockdown, he says, "Being here is the first time I have been out of the film bubble – this is just incredible.  
"From the moment we were in lockdown I have been working seven days a week almost around the clock because we were finishing Top Gun and prepping Mission Impossible.  They shut down Mission and said we wouldn't film for another year, so I had to figure it out.  We worked with governments, doctors and our crew to keep everyone working – I haven't had that banana bread moment yet!"
Tom's Top Gun co-stars Jennifer and Miles join Graham for a chat from New York and LA respectively.
Jennifer, talking about working with Tom, and asked if it was a dream or if there was added pressure, says, "Both actually.  It was extraordinary and such a privilege.  I had such a great time and did things I have never done before.   But I wanted to get everything right – I didn't want to be that person that dropped the ball.
"I was actually afraid to tell Tom at the time that I had only just recently talked myself out of a crippling fear of flying.  When I signed on for the movie there was no flying for my character.  I then found myself taxiing on a runway in a tiny plane with Tom and he said, 'Have you been a plane like this before? Have you ever done any aerobatic flying before?  I started to get very nervous when he said, 'It will be very graceful and very elegant,' and that's how I found out I would be up in the P51 with Tom flying it!"
Miles, who wasn't born when the first Top Gun film came out, jokes, "I told Tom he had been waiting my entire life to work with me!"
Talking about his character – Goose's son – he says, "The storyline taking place 35 years after last film is really wonderful because my character is a man now and there is a lot of history with Maverick.  The film is phenomenal." 
Asked if he knew there would be no green screen and that he would be doing his own stunts, Miles teases Tom and says, "I think that was in the fine print somewhere."  Adding, "I did know, but underestimated the training that was needed to withstand the g-force.  It is no joke to get in those jets.  It was intense.  You don't need green screen when you've got Tom – it was a real pleasure working with him."
Felicity, talking about her character in the new romantic drama The Last Letter from Your Lover, says, "I played her as though she has a permanent hangover, she's drinking too much, and she's lost a bit of hope and perspective.  It's a bit like living through COVID times."
Asked about being a producer on the film, she says, "You get to a point when It's so nice to be involved as early on as possible and have a little more input.  Traditionally, as an actor you come in at the last minute and it's much nicer to have bit more of a say in what you are making."
Talking about what she did during lockdown, she says, "I made banana bread three times and burnt it each time."  Adding, "I had a baby in the first one.  It seems ages ago now in the really scary lockdown when we were all advised to wash our groceries and we didn't know what was going to happen.  It was pretty intense, but having kids is intense anyway.  The pandemic just added a little extra." 
Wunmi joins Graham from LA to chat about her BAFTA-nominated role in horror thriller His House. 
Asked if she likes horror TV and movies, she says, "I don't like being scared just for the sake of it.  I don't get it and it's not my cup of tea.  I don't know why I find myself in them.  I much prefer love stories and musicals.  I did forget it was a horror because there is so much heart and humanity in it." 
Talking about the BAFTA awards ceremony, she says, "I won't be going, it will be by Zoom, which I don't mind.  I'm not a fan of high heels so it's great that I can just be glammed up from the waist up in my slippers.  I love it!"
Asked about her upcoming role in Marvel's Loki, she says, "I show up at the beginning of the series, and I don't think I can tell you who I play.  Actually, I don't think I can tell you anything!  You know what it is like with Marvel.  I am terrified!"
John Bishop, talking about his upcoming tour Right Here, Right Now, he says, "It's the tour I was doing it before lockdown.  We've moved everything to September to allow time for people to be allowed back in.  What was meant to happen was me going to the States, Scandinavia, Canada, Australia and New Zealand.  Now, I think I might get to Scotland!"
Asked about his role in Doctor Who, he says, "That was my lockdown experience.  I am the new companion to the Doctor.  I'm allowed to say that, but that's about it!"
Years & Years performs Starstruck  live in the studio, before Oli joins Graham for a chat.
Confirming that Years & Years is now just him, Oli says, "Nothing bad happened.  We just decided to go our separate ways.  It surprised some people, but for us it was a long time coming."
Talking about the phenomenal success of It's a Sin, he says, "It's amazing and I am so blown away.  I had no idea how the audience was going to respond to such a sensitive topic.  I loved doing it so much and I am so overwhelmed by the reaction and the conversations it has started."
Asked if will be doing more acting, he says, "It's music for the time being and there will be an album sometime this year.  I've written a lot of songs."
The Graham Norton Show, BBC One, Friday 9th April 10.45pm. Also available on BBC iPlayer.
Next week (16th April) Graham introduces the first of two compilation shows featuring highlights from the series including chats with George Clooney, Gal Gadot, Tom Hanks, Jessica Chastain, Hugh Grant, Dolly Parton, Samuel L. Jackson, Kylie Minogue, Arsène Wenger, Nicola Adams, Dua Lipa, Bruce Springsteen, Kristin Scott Thomas, Nicole Kidman, Gary Barlow, Viola Davis, Michael J. Fox, Tina Fey, Emily Blunt, Jamie Dornan, Mariah Carey, Bill Bailey and many more. 

Graham Norton Image Credit: BBC/So Television/Christopher Baines