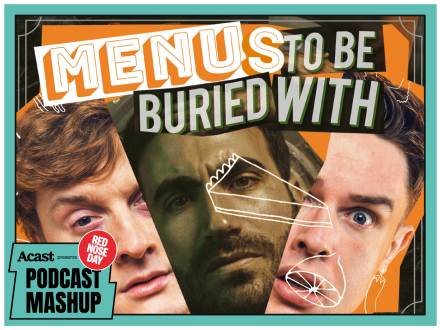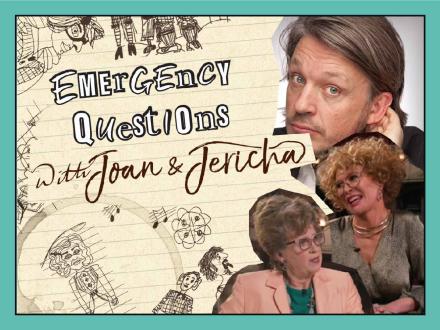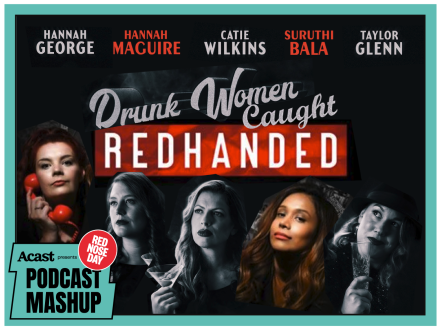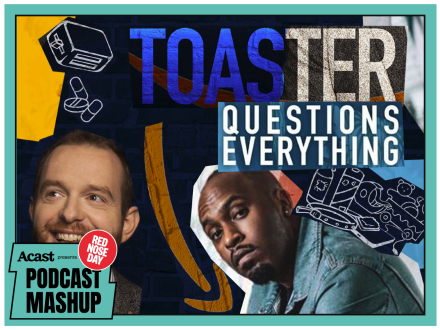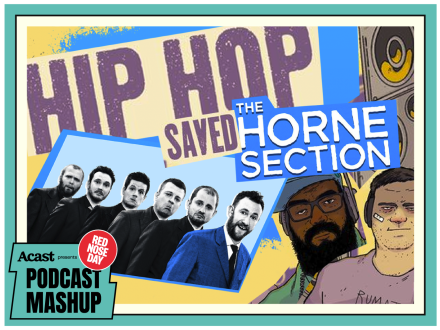 Acast — the world's biggest podcast company — has teamed up with Comic Relief to bring the UK's most popular podcasts together for a special one-off series. The Red Nose Day Podcast Mashup will help raise money to create positive change in the UK and around the world.
Podcast Mashups include:
o   Menus To Be Buried With — Off Menu with Ed Gamble and James Acaster x Films To Be Buried With Brett Goldstein
o   Emergency Questions with Joan & Jericha — Dear Joan and Jericha (Julia Davis & Vicki Pepperdine) x RHLSTP (Richard Herring)
o   Drunk Women Caught RedHanded — RedHanded (Hannah Maguire and Suruthi Bala) x Drunk Women Solving Crime (Hannah George, Catie Wilkins & Taylor Glenn)
o   Hip Hop Saved The Horne Section — The Horne Section (Alex Horne) x Hip Hop Saved My Life (Romesh Ranganathan)
o   Toaster Questions Everything — Dane Baptiste Questions Everything x My Mate Bought A Toaster (Tom Price)
In the greatest crossover event in podcasting history, listeners will hear what happens when two of their favourite Acast Creator Network podcasts are mixed, mingled and mashed up to create new, hilarious shows like they've never heard before.
James Acaster and Ed Gamble never made it to their reservation at the dream restaurant, so ended up on a date with Brett Goldstein to choose their Menus To Be Buried With.
Richard Herring directs his infamous lines of interrogation to Julia Davis and Vicki Pepperdine's agony aunt alter egos in Emergency Questions with Joan & Jericha. Expect frankly ridiculous questions like "Would you rather have a ham hand or an armpit that dispenses suncream?"
It's a true crime cocktail party as the ladies from RedHanded and Drunk Women Solve Crime get together for a sinister soirée in Drunk Women Caught RedHanded.
Taskmaster's Alex Horne and his merry band change up their usual set for boom bap rap alongside Romesh Ranganathan in Hip Hop Saved The Horne Section.
And it's comedian Dane Baptiste's turn to question everything fellow funnyman Tom Price has purchased on the internet in Toaster Questions Everything.
"Let's face it, we all need a laugh right now." said Sam Shetabi, UK Content Director, Acast "Acast couldn't be prouder to be the true home of UK comedy podcasts, and the biggest and funniest podcasters around. We worked with our friends at Comic Relief to give podcast fans around the world a treat by mashing up some of our favourite shows to raise some laughs that raises money for Red Nose Day this year."
Samir Patel, CEO, Comic Relief said: "Teaming up with Acast, and working with the biggest and funniest podcasts on the Acast Creator Network is the perfect partnership for Red Nose Day. During these challenging times it's more important than ever to have a laugh and we're excited to be bringing everyone some much-needed cheer, and if listeners are able to donate, they will be supporting vulnerable people in the UK and around the world, as we help tackle homelessness, domestic abuse and mental health stigma."
The Podcast Mashup episodes are available on each podcaster's usual feed and across every podcast listening app, or you can listen at comicrelief.com/podcastmashup.
Donations have the power to help people living incredibly tough lives. If you can, please, head to comicrelief.com/podcastmashup and give now. Or give £5 by texting 'COMIC' to 70205.
To donate £5 text the word COMIC to 70205. Texts cost your donation amount plus your standard network message charge and 100% of your donation will go to Comic Relief, a registered charity. You must be 16 or over and please ask the bill-payer's permission.  For full terms and conditions visit comicrelief.com/podcastmashup
James Acaster, Off Menu, said: "I can't wait to mash Brett Goldstein." 
Richard Herring can be seen in a repeat of the Champions' edition of Richard Osman's House of Games from Monday, March 15 to Friday, March 19 at 6pm on BBC Two.