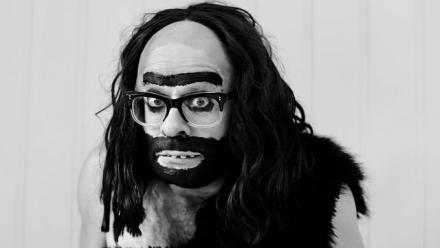 To paraphrase an old showbiz saying, you appear on the BBC twice. Once on the way up, once on the way down. It's good to see Harry Hill back. Except of course he's definitely not on the way down.
Hill returns to BBC Two tonight for the first in a four-part run of very short characteristically oddball films. As you can see from the image, Hill plays a caveman in one of them. We are promised slapstick comedy featuring the aforementioned caveman, plus Napoleon, a monkey and a queen.
Hill started to make waves in the 1990s with his programmes for BBC Two before moving to Channel 4 and then ITV where he became a household name with TV Burp. While it sounded as if he got fed up with having to watch so much TV to make Burp, there were elements of the same sideways wit in the World of TV series he made for BBC last year under lockdown conditions, where obscure clips were used to terrific effect in a series of shows looking at different TV genres.
Lonely Island sounds like a show in which Hill gets back to basics, letting his creativity run riot. We've also seen recently that he is a pretty impressive artist – his Chris Whitty head on Grayson Perry's Art Club was particularly memorable.
The TV channels might have changed over the years, but the nuttiness – alongside those oversized collars – has never gone away.
Harry Hill's Lonely Island, Monday – Thursday from March 8, 10.40pm, BBC Two. 
Catch up on iPlayer after broadcast here.