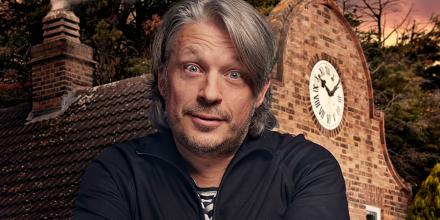 Richard Herring has revealed that he has just been to hospital to have one of his testicles removed.
The current Taskmaster champion had the operation under general anaesthetic early on Wednesday morning at the Lister Hospital in Stevenage.
Herring had "noticed it was a bit odd in January" and after visiting his GP the decision was taken to remove the testicle two weeks ago. It will now be checked for any sign of cancer but the hope is that even if there is the problem has now been resolved. 
Herring had been cryptic about the impending operation beforehand but then went into detail in his latest Warming Up blog, where he was candid but also able to see the funny side, referencing his past shows such as Hitler Moustache and Christ On A Bike in the intro: 
"RIP my right bollock. July 12th 1967 to February 24th 2021. Age shall not wither him (he was quite withered already, at least until the last few weeks). He shall be missed.
That's right, it's the follow up to Hitler Moustache, but this time with some real commitment. I am the One Podfather. I have cleared a stone. My snooker ball has popped out of the pocket. It's menage a un. I'm Christ (not able to go) on a bike (for a bit). I'm talking bollocks. Someone likes (half-portions of) Yoghurt. It's like my whole career has been leading up to this point."
He went on to sing the priases of the NHS: "
I was very glad that everything was double and triple checked and once again the NHS staff were exemplary and funny and friendly. I never thought I would be grateful to a load of people who were intent on turning me into a demi-eunuch. But I really was.
The anaesthetist came in and said I had the choice between general and spinal anaesthetic. As if I wanted to be conscious whilst this was going on. I did not want to have to play any part in this. General please. Preferably until I was all better.
I thought my pre op gag could be something like 'I'd give my right bollock not to have to go through this' but when it came down to it the moment didn't arise.  I didn't get a chance to ask if I could keep it either. It would make a great prize for Taskmaster.  But they still don't know what the issue is (this might not be cancer, which would be great, but don't think they can pop it back in if it isn't) and so they need to take my gonad away for analysis*."
He was discharged later in the day without toomany after effects: "
I was a bit sore and disorientated and doing a wee was still like bailing out a lifeboat with a thimble. But it was all done and had gone as well as possible. I will be taking it easy for a few days, but if there are no complications I should be back on my feet in a week or so. Might try and spin it out for a bit longer as it's nice being waited on."
Herring's material has often been autobiographical so it is no surprise that he wrote: "

And of course there's a show in it."
Later this year he is due to appear in a Champion of Champions edition of Taskmaster alongside 

Liza Tarbuck, Kerry Godliman, Lou Sanders

 and

 Ed Gamble.
Richard Herring's RHLSTP interviews are set to continue. A Lou Sanders interview has just been released and he is due to interview Jeremy Paxman on March 3. Details here. 
Picture: Avalon/C4
*Update 4/3/21: The results are in and Richard Herring has written in his blog that it was cancer but that it has all been removed: "

The bad stuff was all safely ensconced inside my ball like the hazelnut in the middle of a Ferrero Rocher and has not spread, so it's all out."
Richard Herring can be seen (with two testicles) in a repeat of the Champions' edition of Richard Osman's House of Games from Monday, March 15 to Friday, March 19 at 6pm on BBC Two.