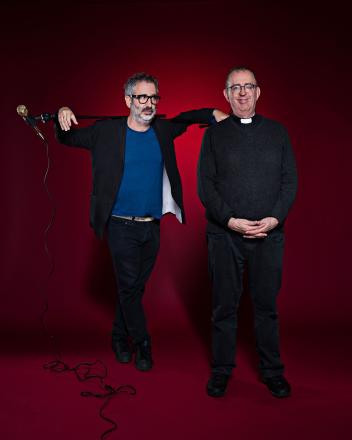 When this two-part series in which comics teach non-comics to be comics was announced it got some grief from the comedy industry. At a time when comedians are struggling to pay the bills why was TV giving comedy work to non comedians?
In an interview with The Guardian to promote the series Nick Helm had an obvious yet eloquent answer to any critics of the project: "I thought that was ridiculous," says Helm, "as it was actually giving work to comedians, including me, who haven't had a lot of work this year."
The Nick Helm interview is really interesting and well worth a read. After you've read this of course. He thought he'd drawn the short straw by having to tutor Tory politician Baroness Sayeeda Warsi. What on earth would they have in common? Would she even have a sense of humour? But like some corny feel good movie it sounds as if Warsi found her comedy chops and they bonded by the end. Even if it doesn't exactly mean the brash character comic (the programme's description of Helm) will be voting Tory next time round...
As for the others taking part, there are some interesting pairings. David Baddiel coaches Reverend Richard Coles. There might be a few chats about theology along the way. Jason Manford shepherds Shaun Ryder and they can share their Mancunian memories (depending how good Ryder's memory is these days). Zoe Lyons will teach Katie McGlynn and Judi Love will be in charge of Love Island heart-throb Curtis Pritchard. Though they really missed a trick with Pritchard - they should really have got Ed Gamble to mentor him as people have been winding up Gamble saying that Pritchard is his looky-likey.
It's not the most original idea of course. Journalists have been commissioned to write pieces about learning stand-up for years. And later on in 2021 the Leicester Comedy Festival is planning a charity event, The Stand Up Challenge, featuring newbies from various walks of life doing a five minute set at the Battersea Arts Centre.
As for Stand Up And Deliver, it should certainly be watchable, with people going on the kind of journeys that reality TV shows love. And it's for a good cause, Stand Up To Cancer. As for muscling in on the hard-pressed comedy industry, I can't imagine any of the 'civilians' giving up their current careers to try to hoover up stand-up work. Though, of course, learning about stand-up might well make them grow as people and make them better at their current jobs. 
Stand Up And Deliver, C4, Thursdays, February 25 & March 4, 9pm. The second epsiode will be available on All4 after the broadcast of the first episode.
David Baddiel's new book, Jews Don't Count, is out now. Buy it here.