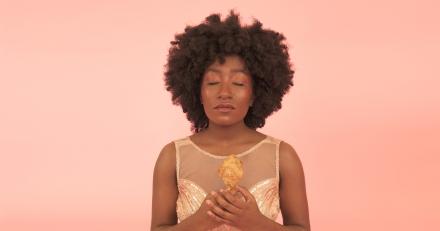 Two great guests on The Last Leg tonight, Armando Iannucci and Sophie Duker.
Iannucci is one of the UK's finest... finest what? Is he a comedian? a writer? a performer? A filmmaker? All of those I guess. I'm so old I remember him doing a two-handed sketch show with David Schneider at the Hen & Chickens. I still have nightmares and cold sweats about it because it is one of the few times I've been hauled up onstage to be a stooge.
But more recently Iannucci has been notching up acclaim for his work behind the camera. On The Thick of It, Veep, and movies such as In The Loop, The Death of Stalin and his last movie, The Personal History of David Copperfield, which starred Dev Patel in the title role. Rest assured whatever Iannucci does it will be worth watching (his latest TV series Avenue 5 wasn't his best-ever but it was still fun).
And Sophie Duker (pictured) is on a bit of a roll too. Duker picked up a Dave's Edinburgh Comedy Award Best Newcomer nomination at the Edinburgh Festival Fringe in 2019 for her debut full length show Venus and despite the fact that gigs have been decidedly thin on the ground Duker has had a relatively prominent profile during the pandemic, notching up televison appearances on shows including Frankie Boyle's New World Order, Richard Osman's House of Games, Jonathan Ross' Comedy Club and 8 Out Of 10 Cats Does Countdown. She also co-fronted a show, The Science(ish) of... Stranger Things.
Duker is sharp, outspoken and honest. Sometimes this gets her into trouble, such as the controversy over her "kill whitey" comment on Frankie Boyle's New World Order. But she also feels like a breath of fres air. If her comments wind the establishment up then she must definitely be doing something right. 
The Last Leg with Sophie Duker and Armando Iannucci, Friday, 19 February, 10pm.