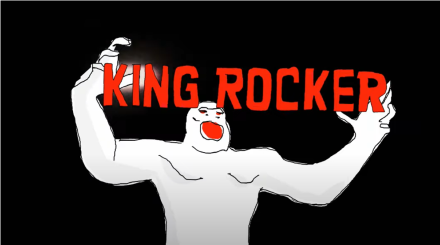 I wasn't sure whether I should be reviewing this. It's not a comedy after all, is it? It's just a documentary about obscure Midlands musician Robert Lloyd. But it's co-made by Stewart Lee and director Michael 'Brass Eye/Toast of London' Cumming so of course it's funny.
On the surface it is Lee telling the story of Lloyd, who, with his bands The Prefects and The Nightingales, has always been on the outside of stardom looking in. And yet somehow this is what makes him so special. Lee links Lloyd with a sculpture of King Kong that was placed in Birmingham city centre in the 1970s but quickly rejected by the community. Just like, hints Lee in capital letters, the subject of this film.
As well as following classic rockumentary chronological format Lee typically twists and turns the template inside out. This is partly from necessity because very little footage of early Lloyd in action exists. Instead Lee bulks out the story with various figures with varying degrees of reliability. Frank Skinner is excellent value, even if we never quite get to the bottom of whether he actually fronted The Prefects himself or not. Lee doesn't follow the maxim of 'print the legend', he prints every version. From Skinner gigging with the band to auditioning outside a pub but being turned down because his hair was too long and curly.
Elsewhere figures as diverse as Duran Duran's John Taylor, food writer Nigel Slater and Confessions star Robin Askwith pitch up to recall their part in Lloyd's rise/fall. Apparently there was an idea that this should be like the classic Anvil heavy metal doc, but there's more than a hint of the Rutles to it too, thanks to these celebrity cameos.
As for Lloyd, he's something of an enigma crossed with a Zelig-like figure, popping up, for example, in the background of some early shots of the Ramones in London. There is a suggestion that he is unlucky not to have become a star, but he certainly had his breaks. The Prefects ended up supporting The Clash when the Buzzcocks lost a bassist and later on he signed a deal with Virgin Records as a solo artist and looks every inch the indie star in the monochrome promos. One can easily imagine him having Jarvis Cocker-like status in a parallel bizarro world.
Along the way Lloyd has also written food articles for GQ under the editorship of James Brown and latterly is a pretty useful racing tipster. He also wrote a sitcom which TV was interested in with co-writer Steven Wells but then didn't get made. An all-indie-star Avengers Assemble-style comedy cast including Kevin Eldon reads out an excerpt from the script. He has also reformed the Nightingales and currently seems to be enjoying life, living in the same area that Lee was born, which lends the documentary a neat circularity.
Lee is a funny, genial, enthusiastic presenter who clearly knows and loves the subject and has plenty of cerebral but accessible theories about music, fame and modern culture. Maybe he should do more music docs. If only he could play boogie woogie piano he could be the new Jools Holland.
King Rocker, Sky Arts (which is a free channel) - if you subscribe to Sky or NOWTV you should be able to watch on catch up.