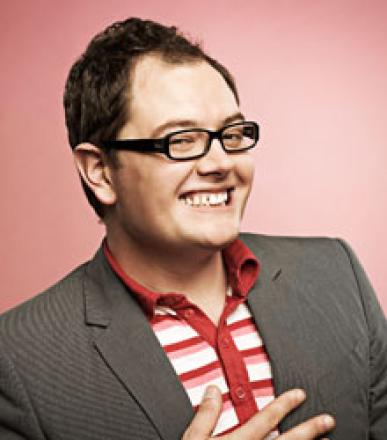 The Brighton Comedy Festival is the first really notable festival after Edinburgh and brings a number of Fringe hits to the south coast this year, such as Bridget Christie and Sara Pascoe, alongside innovative new shows. This year's fun started in familiar style with the big guns from management company Off The Kerb helping to raise funds for local HIV charity Sussex Beacon. 
Compere Alan Carr certainly seemed match fit. He is preparing for a new tour and had some new material to try out on the crowd alongside old favourites such as his walking problems due to "mincers' leg". A recent holiday in the Maldives and his 5:2 diet gave him plenty to gossip about, before he broke a bit of bad news and accidentally let some good news slip out. Opening act Seann Walsh had apparently fallen asleep on the train. I guess he didn't call his last show The Lie-In King for nothing. Carr also let slip news of a surprise guest, but more of that later.
Instead of Walsh first up was Adam Hills. Anyone arriving late, however, might have thought the relentlessly upbeat Aussie was the MC as he bantered with the crowd and barely did his act. An American in the circle gave him the chance for some fish-in-a-barrel Yank-bashing, but he seemed to miss a trick when he joked sarcastically that "we look up to Americans" not seeming to acknowledge that he was looking up to her at the time. Hills was great though. In a brief snatch from his last show he recalled how a US TV producer told him he had to "grab an audience". He didn't need that advice here. 
Local comedian Simon Evans didn't need to grab anyone. He easily had the crowd onside from the start with his local gags about how one can't tell the revellers from the prostitutes in Brighton on a Friday night. Evans majors in a repressed sort of rage. He fumes gently about having moved to Brighton for his children and his life being dominated by them. A choice routine was about a visit to a Susssex farm now boasting two lambs and a llama and flogging overpriced artisan products. Evans is an unashamed fogey, pining for his seventies childhood when there was so little to do on a Sunday that Songs of Praise "lightened the mood".
One of the less well-known acts on the bill was Angela Barnes, who won the BBC New Comedy Award in 2011. In an era when the aforementioned likes of Bridget Christie and Sara Pascoe are pushing comedy forward, Barnes feels more like a throwback, part Sarah Millican, part Jo Brand, bemoaning her lack of success with men and being slightly smutty, but there was no denying that she was very funny. Some newish performers might have been intimidated by the large stage and large crowd, but Barnes was relaxed and engaging and one of the surprise hits of the night. 
The closing act of the first half was Jack Dee. Anyone who has not seen him in the last couple of years might have been surprised to see him cradling a mini guitar - that'll teach him to buy things off ebay, he joked - but for anyone who has caught his act lately we knew what to expect - typically grumpy gags and a song about the jobs he has had such as working on a building site - "I ate sandwiches and I talked shite". A gag about how the local junkies all get dumped quietly in Hastings also went down very well, showing that Dee is a real pro, able to tailor his material to the relevant crowd to show he has made an effort. Or maybe he does the same gag in Hastings but reverses the towns.
Sometimes benefit gigs can feel a little like stand-up conveyor belts, but this show had a fresh feel about it despite feeling a little like a pocket-sized C4 Comedy Gala. Or maybe that was just me, because it made a change to see these acts away from the Hammersmith Apollo and the O2. There was also a difference in tone at the start of the second half when a representative from Sussex Beacon came on to make a moving appeal. "Well, that's really killed the atmosphere," said Carr when he returned. It could have been in bad taste but Carr is far too amiable of offend anyone.
Jon Richardson had a far worse issue than Seann Walsh's problem of oversleeping. He is currently happy, which he worries might stop him from being funny. A nice premise but he didn't seem to have a problem tonight as he managed to find plenty to whinge about, from people in queues to stag parties. He clearly hasn't changed that much - he still has to make sure everything onstage is symmetrical before he starts his set.
Suzi Ruffell was another newish act on the bill but has come a long way since I last saw her. She supported Alan Carr on his last tour and maybe playing big venues has helped her confidence. Even when her material was a little overfamilar - dating travails again - she sold it like a true pro, strutting around the stage as if she owned it. She has a nice riff about how finding a lover is like finding a flat - at first you are fussy, in the end you'll take anything however bad the damp is - and one could see heads nodding in recognition all over the Dome.
Seann Walsh was a slam dunk highlight of the second half, revealing that he had accidentally got off the train in East Grinstead and wondered where the beach had gone. The long-haired loudmouth is on a roll at the moment following his Foster's Award nomination and the fact that he used to live in Brighton and knew all the right local references such as impersonating the man who does Tai Chi near the Pavilion meant that he could not fail. Most of his material came from his winning Edinburgh set and he showed particular skill setting up his routine about kicking a ball back to kids in the park. I was impressed by his physical comedy but even more impressed by the way he smoothly put his phone on the floor by the mic and played the right sound effect. If the stand-up doesn't pan out there is clearly a future as a techie for Walsh. 
Kevin Bridges was also on good form. It was fun to see the Glaswegian get in on the act with an opening gambit about how great it was to be doing a hometown gig.  Bridges is 100% comedy. Every line was funny, every line packed a punch. He might have lobbed in some pretty ancient gags and references – is Bruno Mars still even going? - but his short, sharp set was a great way to finish the evening.
Except that it wasn't the end. As Carr had let slip at the start the special guest was Michael McIntyre, who was greeted with, well, if not a standing ovation certainly sitting ovation. McIntyre admitted that he hadn't gigged in a while but it didn't show as he bounded around and chatted to the front row. He said he did not have any material so would tell us what he had been up to lately. Apart from some useful parenting advice - fling iPads at your kids to get some peace - it largely turned out to be the same thing he had been up to last time I saw him, ie, moving to the country and shitting himself that burglars might break in. A great story told with finesse but maybe not quite as off-the-cuff at it seemed, though it did have an added gag about fields full of rape since I last heard it.
Of course this is me being a picky critic. Most of the audience had not seen McIntyre do this or seen him in such a modest venue and absolutely loved it. He really is so naturally funny one would expect McIntyre to raise the roof by reading his shopping list. A great finish and a great start to the Brighton Comedy Festival.