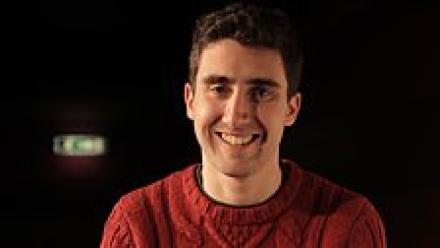 Perhaps this is what all comedy talent competitions should be like. Short, with a small line-up and, most importantly, of a very high standard. Broadcast live on Radio 2, nobody dared overrun, making proceedings whizz by. Previous winners of the BBC New Comedy Award have included Rhod Gilbert, who was one of the judges tonight, alongside Chortle's Steve Bennett and the Head of BBC Radio Comedy Jane Berthoud. But while the judges mulled over the performances, the result was left to a listeners' vote. But would the listeners get it right?
For me there was a clear winner and that was the act that opened the show. The first spot can be tough, but Jonny Pelham from Newcastle hit the ground running by finding a tremendous amount of humour in his own physical flaws – webbed feet, a cleft palate and a debatable number of nipples.
Pelham had a head start with me because although he looked a little like Miles Jupp he had echoes of a young Daniel Kitson. The similarity resonated in particular when he did a routine about his specialist's impractical cure for this speech impediment. A long time ago, by coincidence I'm sure, a young Kitson had a similarly comedic take on the way his doctor had suggested he deal with his stutter by patting his thighs as he spoke. If anything though Pelham went one better with an ingenious callback at the end of a really striking set. 
Second up was Kent's Ean Luckhurst, who was the only dud of the night. But even he deserved his place in the final for some borderline-laddish stories about a trip to the Far East with his girlfriend when he would have rather have had a fortnight in Magaluf. The material was not too taxing – babies, neighbours who make too much noise having sex. Maybe the slightly muted response after Pelham contributed to nerves and Luckhurst fluffed his final joke about being a vegetarian – either that or it was much too subtle for me. He has the skills to be a perfectly good professional comic though, and underlined the stylistic variety of the finalists - he was probably the only Live at the Apollo-type comic on the bill.
Having said that there was variety here, the third finalist Peter Brush was the second scruffy geek of the night. He maybe lacked the oomph of Pelham or the USP of too many nipples, but his gags were clever and original. He wondered, for instance how there are so many ducks around if mouldy bread gives you cancer and had a witty theory about brown rice making you live longer. It was only the comparison with Pelham that stopped Brush sweeping to victory for me. I expect to see him doing well in other competitions in the future. 
Fourth up - no intervals needed in this brisk show - was Mark Silcox, who insisted he was from Ireland and turned out to be Asian. A deadpan, high-pitched monotone added to the infectious weirdness as he talked about green card marriages before moving onto his favourite topic, Microsoft 1995. In some ways this made him the dorkiest act of a dorky night and in six minutes delivered a beautifully rounded eccentric set. It didn't push every button but it was certainly distinctive.
Next was musician Rob Carter, who I've heard about on the circuit before. He opened with a dark song about 12-year-olds who murder just to make being a kid less boring and then took the brave - some would say foolish - step of improvising during a live final with the help of an audience member. The audience member he chose turned out to be one of those unhelpful ones who could barely say her name, let alone what she did for a living, but amazingly Carter turned this to his advantage and plucked a great new song out of the air. OK, it was a little Flight of the Conchords-ish, but that was no bad thing. I don't know how it went down on the radio but he stormed it at the Store, which is certainly something to put on your CV. 
And finally another geek. Maybe people at home didn't realise that Steve Bugeja was reading his list of nerdy activities out of a book, which, if you could see him doing it, made him appear even nerdier. Bugeja's gags were good but fairly run of the mill until he mentioned that he often has to explain that he is not Jewish (I had been thinking of him as a Jewish Mark Watson up this point) and then got sidetracked into explaining at absurd length that this does not mean he has anything against Jews. It was a confident display which suggests he could be a comic actor as much as a stand-up. He finished with an inventive extended riff on the idea that his perfect festival is a food festival rather than a music festival – complete with "nosh pit" - and probably went a little over time – Patrick Kielty nearly had to yank him offstage as the clock approached 9pm. 
And so to the results. This review was written before the actual results were announced an hour after the show, and the winner is…looks at Twitter…Steve Bugeja (pictured). Now that is a surprise. Not that he doesn't deserve it, but he wasn't in my top two. I think I'd have gone Pelham, Brush, Carter, Bugeja, but it was certainly very close and they were all very impressive. That either shows that I know nothing or the Radio 2 voters know nothing. So maybe not the perfect awards competition final after all! Or maybe it shows how high the standard was. As Old Mr Grace sort-of used to say on Are You Being Served?, they all did very well. And the losers can comfort themselves with the thought that Lee Mack, Peter Kay and, in 1995, Daniel Kitson, were beaten finalists as well.