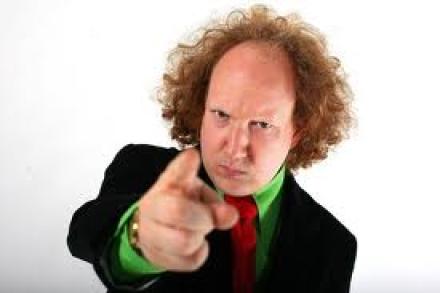 Is it possible to have too much politics at a satirical show? That thought lodged in my brain half-way through Political Animal, the semi-regular club night which has transferred to the Udderbelly tent on London's South Bank for three nights. I can hardly say the show was mis-sold to me – it was just at times I felt as if I was being hit over the head with a rolled up copy of the New Statesman (the mag, not the Rik Mayall sitcom, that would be difficult to roll up).
Regular host Andy Zaltzman was on excellent form. He is clearly a genius. If the multitude of ideas about global economics, science and phone hacking spewing out of his head did not tell you that he was a genius, his mad professor hair would. He warmed up the crowd with a superbly crafted skewering of modern finance, likening Fred Goodwin getting a knighthood before disaster struck to a magician getting a round of applause for sawing a woman in half, before putting her back together: "Phase B is the important part of the trick."
Job done, Zaltzman introduced the first act, Bridget Christie. I don't usually offer performers specific advice but note to Bridget, my friend nudged me and said you were standing too close to the microphone and were too loud for him. This was not a problem for me as I'm a bit deaf. And also I find Christie one of the most refreshing voices on the circuit at the moment, able to be wonderfully silly while also saying something important. Talking about the tyranny of cosmetic surgery and the trend for "decluttering" vaginas she pointed out that she was not a comedy character or a spoof of a 1980s feminist, but a real person. Albeit, I suspect, a slightly heightened version of a real person. Fantastic, if a bit loud for my friend.
Next up was Chris Coltrane, who in his tight T-shirt, trilby and energetic way of ramming his bisexuality down the audience's throats did feel a little like a spoof of a 1980s north London left-wing comedian. Coltrane runs his own satirical club, Lolitics, and maybe he fares better playing at home. At Zaltzman's gig his struggled slightly, firstly discussing people's responses to his sexuality (they tell him his is "greedy" or say "make your mind up") and then touching on the theme of his forthcoming Edinburgh show, to be entitled Compassion is Subversive, which sounds rather like a title rejected by Josie Long. i won't go into details about Coltrane now as I'm sure I'll be coming back to him at some point. He is definitely interesting but at the moment he really needs to clarify his ideas. Make your mind up, Chris.
The final guest was Francesca Martinez, who may have helped to boost audience figures a little by appearing on Jonathan Ross's show last Saturday night. Anyone who saw Martinez then would have recognised her short set as she did some of the best bits also on the box. Her current touring show is called What The F**k Is Normal? and her philosophy is basically learn to love whatever you are: "Say 'I like myself' – it's much cheaper than botox." 
Martinez was undoubtedly funny, but her material felt dated. Some of her gags – references to Sarah Palin in 2013? – were already a little tired when I first heard them last year. And I think I first heard a quip about the word "dyslexia" being hard to spell when I was at school. She is certainly passionate and that wins the crowd over, but still has a way to go to deliver a really consistent laugh-riot of a set.
After Martinez Zaltzman returned to wrap things up in style, comparing the economic collapse of Greece being like trapping both your testicles in separate George Foreman grills. This is the first time I had been to Political Animal for a while and it struck me that while it is great that there are enough political comedians on the circuit to fill a bill this was a little like going to a Labour Party Conference. Nobody was converted by the rhetoric because we were all singing from the same song sheet to start with. Actually that is unfair. I'd much ather go to Political Animal than the Labour Party Conference any day. You'd never hear Ed Balls telling gags about EU members getting their nuts trapped in toasting machines would you?