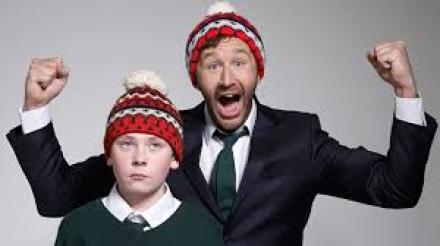 I have to confess that I thought the second series of Moone Boy had already gone out. Maybe that's because co-writer and co-star Chris O'Dowd has become such a ubiquitous figure on the screen in recent months, what with the IT Crowd finale, his appearance in Girls and his turns  in all sorts of American big shot movies. Then I realised that I had, in fact, already seen the very first episode a long time ago but not on Sky. It was screened last summer at the Kilkenny Cat Laughs Festival in the Watergate Theatre to rapturous applause.
If that patriotic home crowd was a little biased, watching it again on an English sofa justifies the acclaim. Quick recap – Moone Boy follows the travails of Martin Moone (David Rawle), his imaginary friend Seán (O'Dowd) and his family and mates in the sleepy town of Boyle. That's really all you need to know. In the first episode of the second series it is summer 1990 and everybody is glued to their TV sets watching their plucky little nation heroically draw their way to the quarter finals of the World Cup in Italy.
Except that the Moones have planned a holiday so off they go in their borrowed fish suppliers' van – "Smells like we are at the seaside already" – and once they get there the family settles in to watch Jack Charlton's lads while homesick Martin tries to make his way back to Boyle, ending up watching a penalty shootout with Romania in a house full of Romanians. Pure awkward, as Rubberbandits would say. Oh, and did I mention that Johnny Vegas has a Back To The Future-style cameo?
You would have to have a heart made of concrete not to smile at Moone Boy. With it's quirky animations, one-liners and visual gags it comes across as the long lost cousin of both Father Ted and Tracy Beaker. It is, I should add, nothing whatsoever like Mrs Brown's Boys. Rawle is absolutely fantastic as Martin, as is Ian O'Reilly as his strangely mature-for-his-years mate Pádraic O'Dwyer. A third series has already been commissioned – it'll be interesting to see how O'Dowd and co-writer Nick Vincent Murphy deal with the onset of raging hormones...
Moone Boy starts on Monday, February 17 at 9pm on Sky 1,