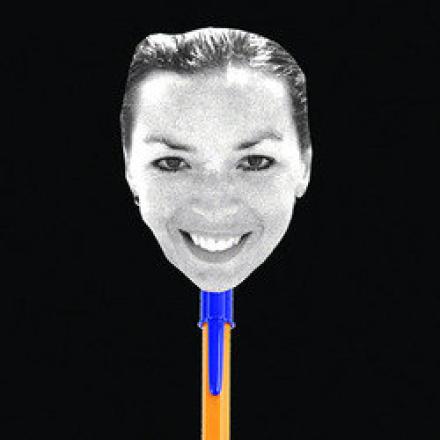 So after all the huffing and puffing and heated discussion Bridget Christie won the Foster's Edinburgh Comedy Award this afternoon. There had been rumours that she might not accept the award but, apart from calling special guest Steve Coogan a "prick" for dumping his girlfriend, she was on her best behaviour.
Christie had been hotly tipped before the Fringe even started and when I reviewed her show, A Bic For Her, on the very first Sunday three long weeks ago she seemed like an early clear favourite. Sometimes early favourites can lose momentum in the home stretch (sorry for the horsey analogies, C4 Racing is on the box) but as the weeks went on there did not seem to be a show that could challenge her. The only other performer I thought might give her a run for her money was Seann Walsh, but he appears to have fallen at the last fence. Instead he will join an illustrious roll-call of stars who didn't bag an Edinburgh prize.
The bigger surprise was token bloke John Kearns winning the Best Newcomer Award (I think the idiots in the media can finally stop asking "are women funny?" now). It did seem as if in this case he pipped Aisling Bea and a very strong nominations field in the final furlong. His show is completely bonkers and you either buy into it or you don't. The judging panel clearly bought into it. I saw it during the week. Sorry I was in it during the week. How can you knock a show which ends with all the men in the audience bonding onstage while a Bruce Springsteen song plays in the background and the star of the show has difficulty keeping his false teeth in? A full review will appear here tomorrow.
The other big surprise was the Panel Prize going to Adrienne Truscott. At the start of the Fringe she was being mocked for her show title, Asking For It: A One Woman Lady Rape About Comedy Starring Her Pussy and Little Else!, but then people actually saw the show and found it to be brutal, passionate and painfully honest about sex as well as funny. Panel chair Tania Harrison had to wipe away a tear as she handed over the award to Truscott. It also won a Malcolm Hardee Award. A review of her show will appear here shortly.
The results were not just a victory for two women and a man, but a victory of the "alternative" Fringe – for the first time in my memory the "Big Four" venues, Assembly, Pleasance, Underbelly and Gilded Balloon went home from the Foster's Awards empty-handed, although John Kearns did give the Pleasance some credit in his acceptance speech for featuring him as part of their Comedy Reserve shows in the past. Christie was at The Stand and the other two winners were from different bits of the free Fringe (Truscott was at Bob Slayer's Heroes of the Fringe, which is much closer spiritually to the Free Fringe than it is to he "Big Four" - ie paying is optional) showing that this year that non "pay-to-play" has finally arrived as a force to be reckoned with, not just when to comes to good value for audiences, but also when it comes to high quality comedy. Next year's Free Fringe could be even more interesting now that acts don't see it as a barrier to winning awards.