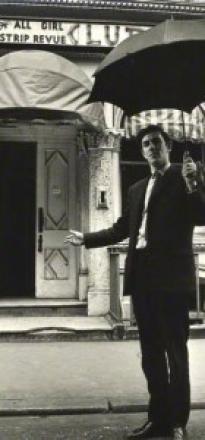 Exciting news has come Beyond The Joke's way that Stephen Fry is going to be a special guest at the next revived Establishment Club night at Ronnie Scott's on April 24th. Fry will be talking about his friendship with the founder of the original Establishment Club, Peter Cook, which is certain to be interesting. Following Cook's death on January 9th 1995 Fry was one of the dissenting voices who went against the popular school of thought among the tributes and obituaries that Cook was a flawed genius who had promised so much and failed to realise his full potential. Fry argued that Cook clearly achieved a huge amount, from Beyond The Fringe to founding the Establishment Club to his work with Dudley Moore and so much, no pun intended, more. The loss clearly hurt Fry. "I loved him....not having him about is dreadful."
At the time I think I thought that Stephen Fry was just being contrary, but on reflection I think that, as usual, Fry was probably right. Here's the clip of him talking about Peter Cook and getting understandably passionate shortly after Cook's death: "He was funny in an almost supernatural way that has never been matched by anyone I have ever met or heard about...Peter was  a man absolutely untainted by bitterness and remorse". In this clip he also tells a brilliant story about David Frost (and does a brilliant David Frost impersonation) – I hope he does it on April 24th too.
Tickets for The Establishment Club, hosted by Keith Allen, can be bought here.