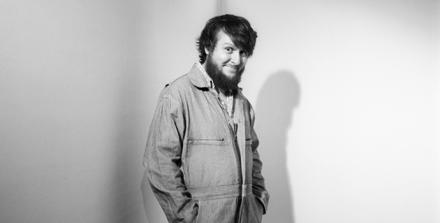 Tim Key's dates at the Soho Theatre here have now sold out. But good news - he's added a run of his new show Single White Slut, at the Arcola Theatre from March 10 - 20. Details here. If you don't know Key what on earth have you been doing with your life? Here's a chance to catch up – book tickets pronto and then read my feature on him below, which first appeared in the Evening Standard in August 2011. You can see the original piece here.
They say sequels are never as good as the originals but not in Tim Key's case. The 34-year-old won the prestigious Edinburgh Comedy Award in 2009 for his last show, Slutcracker, and has followed it up with the hit of this year's Fringe. Masterslut, which transfers to London's Soho Theatre in December, feels like a fresh departure for comedy. A little bit stand-up, a little bit character comedy, the show has Key reciting poetry, singing Russian rock songs, appearing onscreen in short films and scaling the stalls like an indoor mountaineer. It even features a bath but we are not allowed to reveal why. That would spoil the surprise.
"I only started doing shows like this because I was so bad at stand-up," admits Key, relieved that his latest work has been so well-received. "I'm just glad it works. I can have some fun now," he says.
Masterslut works so well largely because of Key's winning persona. Dressed in a dishevelled suit, drinking from a beer can, he is simultaneously the archetypal pretentious poet and a subversion of the archetype. His deadpan minimalist poems - "Tanya Googled herself. Still nothing" - straddle the line between genius and mockery. In the show, he reads them from laminated nudie playing cards.
"That's how I relax before a gig," he explains, showing me a new pack prepared for another sold-out Fringe night. "By laminating my cards."
There is something endearingly enigmatic about Key. He has a classless voice and cherubic, mischievous expression. His playful streak extends beyond the stage. The first time I encountered him, he borrowed my phone and sent flirty texts to someone in my address book. He does not reveal much about his private life, except to say that he is single, and it soon becomes clear that he is good at keeping secrets.
His past is not quite what it seems. Although he appears on Cambridge's list of Footlights alumni (between Clive James and Hugh Laurie, alphabetically) he never actually studied at the university. He grew up in the nearby village of Impington and returned home after graduating. "I did a Russian degree at Sheffield University, then when I moved back I auditioned for a Footlights panto production of Treasure Island," he says.
He passed the audition and found himself in the Footlights. He did not dare admit he was a fraud, claiming instead that he was doing a PhD - though there were some close shaves with directors. "They asked me for my email address and were confused when it wasn't a college one. And then there was a time they were doing a Gogol play and wanted me to help because they knew I spoke Russian." He realised that if he turned up, Cambridge's Russian scholars would wonder why they had never seen him in lectures, so he made himself scarce.
After moving to London, Key developed his surreal poetry persona largely by accident. He owes a lot to Tube delays, he says: in 2005 he was stuck on the London Underground with a notebook and started writing short verses. By the end of the week he had written nearly 300 poems. After two books and an acclaimed album, an anthology of his work is published this week by Canongate.
Despite a faint air of pretension, Key is no comedy snob. His deadpan delivery might be miles away from the quickfire likes of Michael McIntyre but he does not resent them. "I think Michael McIntyre is great. I find it perplexing when people criticise him. He is standing up in front of 20,000 people and making them laugh. I'd love to be able to do that. I try to write jokes but when I've written about four I run out. Writing my show is a very lonely place."
Like the Russian writers he studied, there is a melancholy air that surfaces when he discusses his work. He might not be a tortured artist but there is certainly some pain in the creative process.
In fact Key finds the meticulous preparation for his show so stressful that he will not be premiering new work at Edinburgh next year. "Doing a new show is just so much pressure. I saw a magazine with my face on the cover and the question 'Is this the funniest man in Edinburgh?' I think they meant it in a flattering way but it's not the sort of thing you want to see if you've just had a bad gig."
Instead he plans to spend next summer at home in Kentish Town, having recently bagged tickets for his two favourite Olympic events, weightlifting and synchronised swimming.
Meanwhile, he has lots of side projects to keep him busy. Alan Partridge fans will have recently seen him opposite Steve Coogan playing Sidekick Simon in the YouTube hit, Mid Morning Matters - there are plans to televise the series. He has cropped up performing topical poems on Charlie Brooker's Newswipe. And this autumn he appears as a hapless interviewer in the new Ricky Gervais sitcom, Life's Too Short.
So does he consider himself a comedy star or a poet? "I suppose I must be a poet as I have an anthology out," he smiles. He is also one of our hippest clowns.