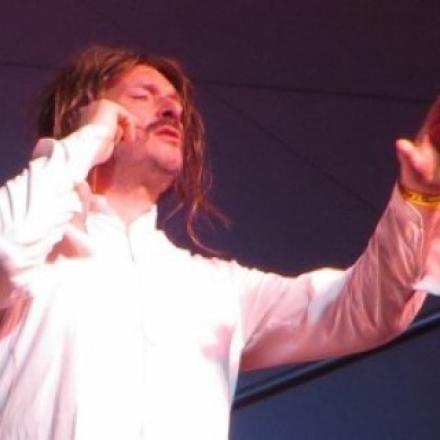 No press tickets issued, no reviewers invited to Julian Barratt's first "love blast" at the Soho Theatre in the guise of relaxation guru Jon Breeze, who wants to "touch your now". So as soon as the one-off  was announced the credit card was cranked out and a ticket was bought. What follows then is not a review but a small hint of what goes on within the strange cult of Breeze. I've tried to keep spoilers to a minimum.
Firstly this is not a normal gig. Everyone involved is dressed in white. Breeze's Wellness team – actors Will Adamsdale and Matt Steer, who regularly work together – circulate the room offering water because Breeze wants everyone to be well-hydrated. There is a bowl of pine nuts on the table next to me which I presume are provided by Breeze. I help myself, though they may belong to the people on my right.
The set is divided into "modules" during which Breeze – sporting a much longer blond-streaked ponytail than the picture here suggests – and his two onstage musicians/helpers take the audience on "a journey". Breeze gently encourages the gathering to unload their emotional baggage. The Jung-quoting philosopher - who previously made a brief appearance at the Mighty Boosh's gig at Festival Supreme in America in October, explains his various guiding principles, such as: " I want to lay my eggs inside your brain."
It feels very much like the kind of meeting a cult religion would hold, complete with hypnotically woozy music tinkling away in the backrgound. At one point he gets the audience to write their worries down. He then liquidises them to create a Worry Smoothie that can be easily digested. 
There were also some special guests. Will and Matt came onstage to talk about their acting careers (and hint that they may be being held hostage). Steve Oram in a big ginger wig played nervous Black Country cleaner Jeanette, who demonstrated how confident she has become since meeting Breeze by screaming at the audience. And Andrew Buckley and Ed Gaughan (from the film Skeletons) played two priests with a strange Mark Morrison fixation. 
The highlight of course, was the intermittent live music from Breeze and his two-piece band, which includes Steve Evans from sketch group Dutch Elm Conservatoire and lots of TV comedies on keyboards. Before one song we got a little bit of back story, Breeze, it turns out, used to live in Reading and was a member of Level 42, but left because of an argument when he wanted to take the jazz-funksters to the next level - Level 43. He now has an allotment and his centre is in High Wycombe.
The climax was a splendid bit of fretless bass work complete with some spectacularly raunchy hip-swivelling and segueing into a famous TV detective theme. Breeze suggested that the women would enjoy this more than sex. At this point everyone onstage danced, led by Breeze, Pied Piper-style, into the bar upstairs where the music continued. As undercover News of the World reporters used to say, I made my excuses and left. Was my now touched? I'm not sure. But those pine nuts were delicious.