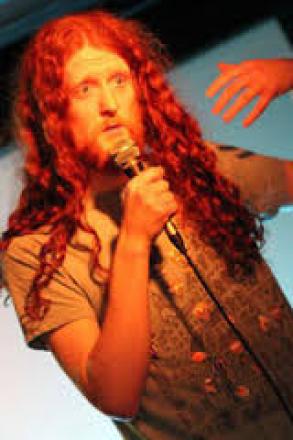 Comedian, illustrator and filmmaker Alasdair-Beckett King was crowned the latest New Act of the Year at the Bloomsbury Theatre tonight (Sunday). Except that in a change to the usual tradition instead of being named winner, he was proclaimed "Top of the Bill". An unusual title, but one in keeping with the organisers Claire and Roland Muldoon's old school left-wing philosophy in which everyone is a winner. Though as compere Arthur Smith said at the start of the night, whatever the title is called the person the judges pick out will be phoning home and going "I've won!".
I first saw Beckett-King when he was in the final of Foster's So You Think You're Funny? competition at the Gilded Balloon in Edinburgh last summer. He had a particularly strong opening visual gag but did not quite build on it enough to scoop that prize. This time round he had the material to back the showstopping start up. It would be a shame to give such a fresh new talent's material away, so let's just say that he gets plenty of mileage out of his striking long pre-Raphaelite copper hair and he also has a distinctive way with words and the English language. I can see him coming up with an original full-length show for the Fringe and I can also see him working well on TV, where his appearance would certainly be very memorable. Beckett-King also makes films and is an illustrator, but let's hope he sticks with stand-up or maybe combines his various skills. Definitely one to watch.
Full review of the Final to follow...