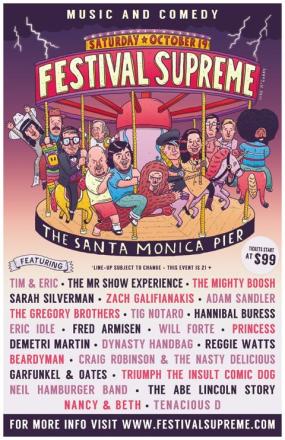 Good news for Mighty Boosh fans – or at least Mighty Boosh fans who can afford transatlantic flights. The duo will be reuniting to appear at the Festival Supreme, a one-day comedy festival organised by Jack Black and Kyle Glass, aka Tenacious D. Also appearing are Sarah Silverman, Zach Galifianikis, Eric Idle, Adam Sandler, Demetri Martin, Hannibal Buress, Reggie Watts and lots more. This interview with Noel Fielding and Julian Barratt dates from 2004 when their modest little TV show was about to air on BBC3. A decade on Fielding has become a goth detective and fronted an even weirder show on E4, Barratt has done lots of straight acting. We still however, wait for the release of the album they recorded together. Maybe this Woodstock-style live comedy spectacular would be an appropriate point to release it. 
Sometimes a comedy comes along that goes brilliantly against the flow. Reeves and Mortimer did it in the early 1990s, marking the end of the right-on era and the dawn of postmodern music hall surrealism. The Office did it a decade later, taking the gritty realism of the docusoap to its gloriously absurd conclusion. And now, with the small-screen grotesquerie of Nighty Night and Little Britainsweeping the nation, The Mighty Boosh arrives with a huge grin on its face, feeling like a veritable hurricane of fresh, uncynical air.
The creation of the Perrier-nominated performers Noel Fielding and Julian Barratt, this picaresque oddity charts the adventures of two hapless zookeepers. This Tuesday, for instance, Howard Moon (Barratt) is railroaded into boxing with a kangaroo, with Vince Noir (Fielding) as his trainer. It might be in a late-night BBC Three slot, but you could just as easily screen the fun as Sunday afternoon family fare.
Fielding, all excitable pixie demeanour and primped rock'n'roll hair, is delighted with this suggestion. "It has childlike honesty and innocence." Their phantasmagorical baby is the antithesis of the meta-realism of The Office. "It doesn't look like a documentary, it doesn't make you cringe. I love that stuff, too, but it's not what theBoosh is about. I'm more into The Arabian Nights."
The more languid Barratt, who has a moustache and a sideline as a straight actor, appearing in Lucky Break with James Nesbitt and The Reckoning with Willem Dafoe, thinks it has junior appeal, too: "I used to like watching The Goodies with my Dad when I was young. I like the idea of every generation being able to get something out of it. I think we have combined lots of different elements." Sometimes there is so much going on in the programme that it is hard to contextualise it. The Boosh are undeniably the children of Vic and Bob, but the lineage is more complex. The Leeds-born Barratt also loves Frank Zappa, jazz and Monty Python. "Zappa wrote a lot of music about the tundra and in one episode we go to the Arctic."
Fielding wanted to be a footballer when he was growing up in South London, but then he discovered art and European cinema. "I wanted it to be a cross between Jean Cocteau and The Singing Ringing Tree."
The duo got together in the mid-1990s, having heard about each other's quirky activities on the stand-up circuit. Fielding popped up at a poetry night in Chalk Farm at which Barratt was performing and they bonded. At one point they were going to call themselves different names each week, splutters Fielding between bites of baguette: "Hot Lego Wolves, Swan Priests. Lovepopes. But then we stuck with The Mighty Boosh. My brother Michael used to have really big hair and his friend used to call it a mighty bush."
After three acclaimed Edinburgh shows, their radio transition picked up a Douglas Adams Award for Innovative Writing, which was particularly flattering because Fielding and Barratt were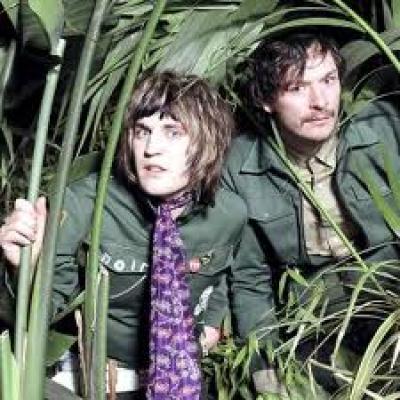 big fans ofThe Hitchhiker's Guide to the Galaxy: "I like that overarching narrative going through various characters," says Barratt. BBC Three commissioned a pilot that went out last May and spawned the series, produced by Baby Cow (Steve Coogan's production company, outlined in THE EYE's profile last week).
Their biggest challenge was cramming all their ideas into eight 28-minute episodes. The first yarn alone takes in the aforementioned kangaroo punch-up, a love interest for Howard, the safari-suited zoo manager Bob Fossil (Rich Fulcher) explaining how he doesn't like cricket via a rendition of 10cc's Dreadlock Holiday, an Aboriginal dream sequence and the kind of goofball whimsy that Hope and Crosby used to specialise in in their Road To . . . movies.
"The challenge was balancing the comedy and the story. We were interested in narrative and making the weirdness work within a storyline," says Barratt. They considered using other writers, but nobody was quite on their wavelength. "We have certain rules about levels of wrongness and stupidity, although we don't know what they are."
They painstakingly piece everything together themselves. The quickfire Ali-style opening banter for instance ("I'll come at you fast like a northen bullet . . . like being caressed by a natural yoghurt") might sound spontaneous but it is all scripted, explains Fielding. It can sometimes be a struggle to come up with the perfect surreal one-liner. "The battle goes one way then another, like trying to get through a narrow gap. When we agree it's like, 'yes, we're in!'" The result is deliriously funny but as difficult to pin down as a will-o'-the-wisp. Even its creators are not sure if they've come up with a sitcom. "That's hard. Is Mr Benn a sitcom?" muses Fielding. "It is set in the same place and we play the same characters, but anything can happen. We're not trapped, which is supposed to be a sitcom law. We weren't that interested in the detailed lives of zookeepers."