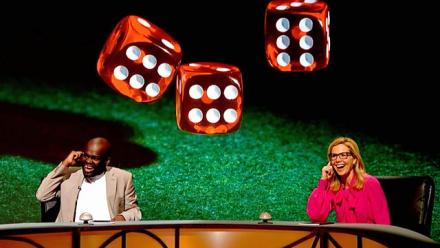 A few years ago on a bit of a whim I decided to see if I could cycle from London to Oxford in a day. Much to my amazement I made it all the way and the first thing I did when I got there was park my bike and head to the QI cafe in Turl Street* – the coffee shop spin-off of the show. Except that when I got there the cafe had closed down. I hadn't thought to check before setting off. I hope you found that quite interesting. 
Anyway, this week's line-up includes someone who got to Oxford without having to get on a bike and cycle there – Sally Phillips was a contemporary of Richard Herring and Stewart Lee and after a few quiet years has become a television regular again. I think it's not controversial to say it's always good to see Phillips on the box.
Daliso Chaponda also appears in this show – Malawi-born Chaponda blazed a trail as one of the first UK-based club comics to enter Britain's Got Talent. He very nearly went on to win it too, coming third in 2017.
Bill Bailey has also had some television competition success recently, winning Strictly Come Dancing with Oti Mabuse and making our lives a little bit brighter in these dark times. Not sure if Bill will be flashing his twinkle toes tonight, you'll probably just have to make do with flashes of his brilliant wit.
Plus Alan Davies and regular host Sandi Toksvig, all tackling thorny trivia that begins with the letter R for Random.
QI, Thursdays, 9pm, BBC Two
Watch on catch-up after broadcast here.
Picture of Sally Phillips and Daliso Chaponda: BBC
*I remember one wag tweaked the street sign so that it said "Turd Street". Students, eh. 
Picture: BBC