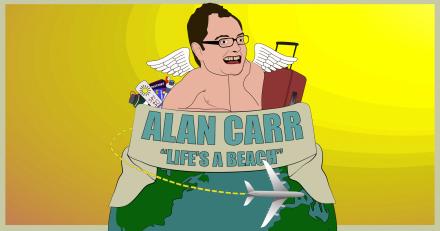 Alan Carr has launched his very own podcast with a travel theme to it, with stars including Robbie Williams and Michael McIntyre joining him for the ride.
Life's A Beach sees Alan giving Judith Chalmers and Michael Palin a run for their money, as he invites a famous guest each week to discuss their favourite places in the world. Bursting with anecdotes, laidback chat and laugh-out-loud travel tales, if this podcast was a suitcase you'd have to sit on it! On Episode One it's the very funny Romesh Ranganathan, who is no stranger to travel himself with his BAFTA-winning The Misadventures of Romesh Ranganathan – and hetalks Cornwall, Sri Lanka and how he can't resist a Center Parcs.
In the following weeks we'll have the likes of pop superstar Robbie Williams, Table Manners host Jessie Ware and her mum Lennie, and the hilariously lovable Michael McIntyre, as well as Rufus Wainwright, Judge Rinder, James Blunt, Dustin Lance Black and many more.
Alan Carr's unique style of humour and effortless stage presence has made him one of Britain's most successful and treasured comedians. With 16 series of Channel 4's Chatty Man under his belt, Alan has won a multitude of awards including an NTA and a BAFTA. 
As well as appearing as a guest judge on Ru Paul's Drag Race, Alan can be seen presenting his hit panel show There's Something About Movies on Sky One. Other recent TV show highlights have seen Alan host Kylie's Secret Night and Alan Carr's Celebrity Replay, and he has also co-hosted four Stand Up to Cancer live events for Channel 4 – as well as appearing on a Celebrity Bake Off for Stand up To Cancer.
Alan will be back on screens as host of ITV's Alan Carr's Epic Gameshow, which sees five of the nation's all-time favourite game shows return, supersized for a brand-new audience, and can also be heard on the airwaves on BBC Radio 2 every Saturday morning. Over on BBC Two, Alan has been announced as the new host of Interior Design Masters, the show that sees up-and-coming designers face an array of tasks to win a contract with a renowned client. The first series was a big hit in 2019, and continued success is expected with Alan at the helm.
And for some final good news, to brighten things up even more: in autumn this year, Alan Carr will finally return to the live tour scene with his stand-up show Not Again, Alan! Four years in the making, the show brings everyone up to date with what's been going on in Alan's world. From the exhilarating high of his star-studded wedding day to the low of lockdown stuck on a farm, Alan tells it like it is in his own inimitable style. 
Alan Carr's Life's A Beach is now available at the usual podcast outlets such as this one.