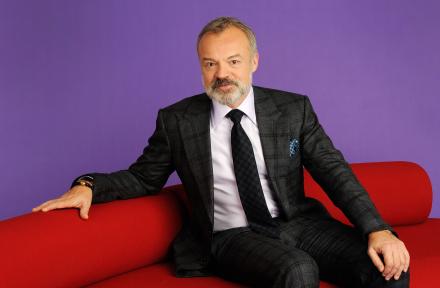 Do you want to know who is on The Graham Norton Show this week? We can tell you. The line-up has now been confirmed for the Graham Norton Show this Friday, January 22. 
Joining the Bafta-winning host will be acclaimed actor Carey Mulligan (An Education, Drive) talking about her role in the revenge thriller Promising Young Woman; footballing legend Ian Wright, who got very emotional on Desert Island Discs and whose podcast is Ian Wright's Everyday People; Hollywood and Broadway star Neil Patrick Harris (How I Met Your Mother) who is in Russell T Davies' eighties serial It's a Sin.
Plus French actor Camille Cottin, the breakout star of the hit Netflix show Call My Agent and actor James Norton (no relation to Graham Norton), who plays a dying father in the powerful drama Nowhere Special.
With music from singer-songwriter Celeste, who performs her current single Love Is Back.
Carey, talking about her new film Promising Young Woman, says, "It is the best script I had read.  It is amazing and it's so many things – romantic comedy, thriller, revenge road movie.  It's really hard to describe.  
"It's full of comedians – I am the only person who's not funny in the whole thing and  on the third day of filming, I was like, 'Is this your life all the time, just laughing? What have I been doing?  Just terribly sad films!'  It was great and I had so much fun.   It's so good to be in a film that is so dark, but fun at the same time.  Britney Spears is in it and there is a whole scene where we lip sync to Paris Hilton – a bucket list thing for me!" 
James, talking about Nowhere Special, in which he plays a dying father preparing his young son for a life without him, says, "The film is heart breaking, but it's really all about life and love, and cherishing the special moments you have with your family."
Asked about working with his four-year-old co-star Daniel Lamont, he says, "The whole film is on his shoulders and he was an absolute inspiration.  Normally with prepping for a movie it is all very earnest, but with Daniel, it was all about gaining his trust, so I spent a lot of time hanging out with him and his family playing with toys.  By the time we were on set I really was his friend, and we found a very special relationship.  I'm still very much in his and his family's life."
Talking about whether Daniel actually knew he was in a film, James says, "He did and he didn't – he'd never been on a set and halfway through the film process, he turned to his mum and said, 'When do we start the filming?'"
Neil, who joins Graham Norton from Long Island, says of the new 80's serial It's a Sin, in which he stars alongside much younger actors says, "The conversation about HIV Aids is so different now to how it was then, at the start.  I guess now, with drugs changing the game, I feel like a younger generation, doesn't even know about it in any sort of context – historical or otherwise.  
"Russell T Davies is so remarkable at speaking about big-picture things in such a wonderfully welcoming way that isn't heavy handed for a younger generation – it is gut wrenching and emotional, but still vibrant and sexy."
Asked if he is involved in the Dougie Howser, M.D. reboot, he says, "No, not at all, but it's a super fun idea, and with a female lead.  I am very excited to watch it."
Camille joins Graham from Paris to chat about season four of her hit TV show Call My Agent, which she describes as "A dive into the industry backstage with agents like the shadows of actors pulling all the strings, but you never see them."  
Talking about the inspiration for her character, she says, "She is based on a very famous French agent who is known as icy and cold.  I was very impressed by her being a beautiful woman who liked other women and didn't care about men, there was no need to seduce men, and she was passionate and so hard in business – a very strong woman."
Asked by James if her relationship with her own agent has changed since being in the series, she jokes, "Yes.  I keep apologising all the time now!"
Ian, taking about his new podcast Ian Wright's Everyday People, he says, "It is about ordinary people doing amazing things. It's very emotional and very inspiring."
Asked about the inspiration for the podcast, he says, "It all came from my teacher, he was my hero.  He was a normal man who was a pilot in WW2, yet he was prouder of me for playing for England. All he wanted to do was teach people to be what they thought they can be.  I think about him every day and I talk to people like him.  Amazing, inspiring people that don't normally get the light of day.  People like that do things for no other reason than the cause.  It was so emotional; I was crying a lot."
Asked about becoming a football superstar, he says, "The air I was breathing was different – all of a sudden, in the space of five years I was at the pinnacle – where I wanted to be in football, but it was happening a bit too quick for me.  I never dreamed of it and when I got the letter saying I had been chosen to play for England I burst into tears because I just couldn't believe it.  I was always chasing the dream because I never thought it would happen."
Celeste performs Love Is Back live in the studio before joining Graham for a chat.
Talking about her debut album, she says, "I am so excited that it is actually happening – I didn't think anyone would hear it, so I am so glad it is happening."  
And finally, Graham pulls the lever on Ian who volunteers to sit in the Big Red Chair.
Next week (29th January), Graham's guests include Sam Neill, Billie Piper, James Nesbitt, Andi Osho and Tom Jones.
The Graham Norton Show, Friday, January 22, 10.45pm, BBC One.
Graham Norton Image Credit: BBC/So Television/Christopher Baines