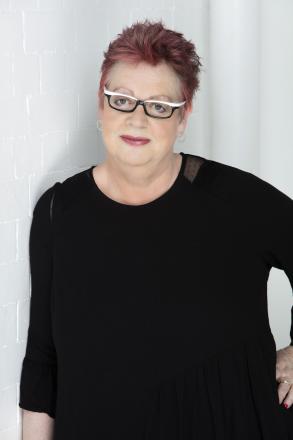 For one night this March, comedic legend and Alzheimer's Society Ambassador Jo Brand will headline an online comedy event hosted by actor and comedian Hugh Dennis to raise money for people affected by dementia. Jo and Hugh will be joined by a stellar line up of well-known faces from the comedy world, with more names to be announced very soon. Joke's on You, Dementia! will be streamed online on Thursday 11 March at 7pm; tickets and sign up are free, with audiences invited to donate what they can to make a huge difference to the lives of people living with dementia.
Living with a diagnosis or caring for someone with dementia can be tough, but the coronavirus pandemic has further exasperated the everyday challenges people may face. People with dementia have lost essential skills such as the ability to communicate due to the impact of isolation, and without being able to see friends and family, they are losing their connection to the world around them. Carers are exhausted and unable to get respite, reporting to Alzheimer's Society's Dementia Connect Support Line that worried families have seen loved ones lose hope and experience an increase in their symptoms.
Accounting for well over a quarter of all Covid-19 deaths in the UK, people with dementia have been worst hit by the virus. Our services have been used more than 2.7 million times since the first lockdown began, showing we are needed now more than ever. Alzheimer's Society is the UK's largest dementia charity, campaigning for change, funding dementia research for the future, and providing information and support for people affected by dementia today. This comedy event will raise vital funds to make sure that the 850,000 people with dementia in the UK today know that they aren't alone.
Comedian and Actor Hugh Dennis said: "I'm really excited to be hosting Alzheimer's Society's online comedy night this coming March, and hope it will be something for everyone to put in their calendars to look forward to. We hope the night will bring a lot of laughter, and most importantly, a lot of donations to help Alzheimer's Society continue to support people impacted by dementia. Given the impact of the pandemic, they need support now more than ever."
Comedian and Alzheimer's Society Ambassador, Jo Brand who also spent 10 years working as a psychiatric nurse said: "After a completely horrendous 2020, and lockdowns continuing into this year – I think we're all in desperate need of a little light entertainment. I really look forward to welcoming everyone on the night to come together and enjoy some comedy (all from the comfort of their own sofa!) to support people affected by dementia. In return, I promise a really good laugh and hopefully the best online meeting you will attend all year! See you there!"
Kate Lee, Chief Executive of Alzheimer's Society, added: "We are delighted to have the brilliant Hugh Dennis and Jo Brand taking part in our virtual comedy night and we can't wait to announce more familiar faces from the comedy world who are also taking part.
"Like all charities, our income has taken a huge blow due to the pandemic, while demand for our services has sky-rocketed – without the generosity of our supporters we simply cannot keep up. We hope many of you join us on Thursday 11 March and donate anything you can, because every penny can really make a huge difference and keep our services going to help a huge number of people and their families."
Claim you free tickets to Alzheimer's Society's comedy night at: https://alzheimers.enthuse.com/ps/event/JokesonYouDementia