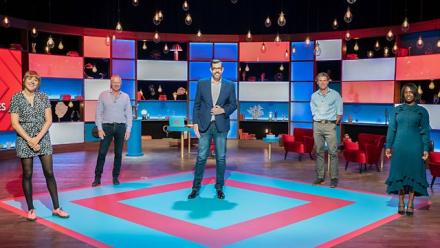 The line-up for this week's run of Richard Osman's House of Games has been confirmed.
Competing are comedian Maisie Adam, impressionist/satirist Rory Bremner, gold medal-winning Olympic rower James Cracknell and actor/singer Michelle Gayle
Comedians have been doing amazingly well on the programme recently, with Angela Barnes smashing various records and winning all five of her episodes before Christmas and Isy Suttie also being the overall victor when when she appeared in November. Josie Long also won her week in December. Tim Key was the overall winner at the start of 2021 and previous winners in this series include Neil Delamere, Rufus Hound and Stephen Mangan.
Last week David Baddiel won one of the most keenly fought weeks in recent memory. Having won the first two shows he clung onto his lead to become overall champion by a whisker,nearly being pipped at the post by fellow comic Sophie Duker.
Maisie Adam is having something of a TV moment at the moment. The award-winning stand-up who is based in Brighton (as is Angela Barnes, if you are a form follower...) was on both Mock The Week and Would I Lie To You? last week. You can also currently catch Adam doing the voiceover on ITV reality show The Cabins. Adam said of The Cabins, "It's got all the sexiness of Love Island, the cuteness of First Dates, the intensity of Married At First Sight, the madness of Love Is Blind, and THE VOICE OF A SWEET NORTHERN ANGEL, what more do ya want?!"
Oh, and please note it's Adam not Maisie Adams. And Maisie not Maise. And the haircut is intentional and self-inflicted. She did it when she was bored during the first lockdown though it looks as if she has stuck with it now. And she is a bit of a game show veteran. Adam appeared on ITV show The Chase when she was a student, but it didn't end well – she lost £300 so is hoping for redemption this week.
Rory Bremner is simply a comedy legend and one of the finest impressionists of the modern era. He has had his own TV shows, appeared as a guest on other shows and has toured successfully over many years. But can he add a House of Games prize to his trophy cabinet? 
Daily updates
Maisie Adam won Monday's show...
Maisie Adam won Tuesday's show...
Maisie Adam won Wednesday's show...
Rory Bremner won Thursday's show by a whisker
Maisie Adam won Friday's show and was crowned overall winner. 
Richard Osman's House of Games, Monday January 18 - Friday, January 22, 6pm, BBC Two.
Picture: BBC