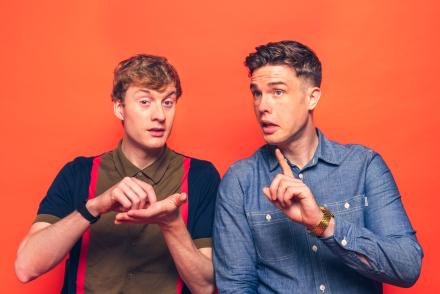 Update: Due to circumstances beyond our control this online show has been reschedule to Sunday 7 February. All tickets for the original date (Sunday 24 January) remain valid.
On Sunday 24th January 2021, Off Menu podcast hosts Ed Gamble and  James Acaster are inviting some of podcast's most talked-about guests back to the dream restaurant to re-live their contentious meal choices.
In this very special live-streamed show, will the returning diners stick with their previous orders, or will they take a once-in-a-meal chance to change their minds? This is  Off Menu: The Redemption Dinner Party.
Ed Gamble said: 'It's rare to get second chances in life, so we're excited to give these disgraceful monsters an opportunity to claw back some credibility.'
James Acaster said: 'I hate cheese boards.'
Guests for this one-off live-streamed event will be announced later this week.
Tickets are available now from dice.fm priced at £8 (including booking fee). The show will be available to rent/watch again for 48 hours after the stream. This is a live-streamed show online and will not be released as a podcast episode.
£1 from every ticket goes to FareShare, the UK's longest running food redistribution charity.